Beverage Industry Microfiltration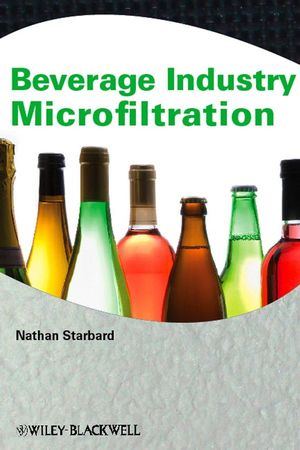 Beverage Industry Microfiltration
ISBN: 978-0-813-80654-9 March 2009 Wiley-Blackwell 304 Pages
Description
Beverage Industry Microfiltration covers the engineering basics of microfiltration and gives a detailed understanding of the filtration media, filter formats, and equipment. The proper operation and monitoring of filtration processes are fully covered. Specific applications and industry examples are given for the primary beverage microfiltration markets, including the wine, beer, bottled water, spirits, dairy, soft drinks, sports drinks and juice industries. The book can serve as a general learning tool; troubleshooting reference; filtration process optimization guide; means for selecting the proper filtration media/format; design and sizing guide for filtration equipment; and as a reference for new applications. Unlike any previous book on microfiltration, Beverage Industry Microfiltration is completely geared towards the beverage industry and its unique problems.
1 Introduction.
2 Cartridge Filters.
3 Sheet and Lenticular Filters.
4 Bag Filters.
5 Crossflow (Tangential Flow Filtration) Systems.
6 Filtration System Selection and Design.
7 General Industry Filtration Processes.
8 Wine Industry.
9 Beer Industry.
10 Bottled Water Industry.
11 Spirits Industries.
12 Dairy Industry.
13 Soft and Sports Drinks Industries.
14 Juice Industry.
15 Flavor, Neutraceutical, and Niche Applications.
Appendix A:.
Glossary.
Index
"This is the first text completely dedicated to microfillration within the beverage industry." (
Beverage and Food World
, April 2009)
"This book is a comprehensive guide and learning tool with regard to micro-filtration in the beverage industry." (Food and Beverage Reporter , July 2009)
"This book is a one-stop source for quality information on beverage microfiltration and will be a valuable tool for all brewers working in large or small breweries and brewpubs … .I highly recommend a look at this book." (Brewer & Distiller, March 2009)
"Whether used as a primer for water treatment professionals, specifying engineers or beverage plant managers applying microfiltration — or simply as a refresher course — Starbard's book will likely prove to be a useful reference and office/professional bookshelf addition." (Water Technology, January 2009)
"A comprehensive treatment of all aspects of microfiltration specifically written for the beverage industry. This book is a one-stop source for quality information on beverage microfiltration and will be a valuable tool for all brewers working in large or small breweries and brewpubs. The book will be valuable as a reference, but it should also be on every brewer's must-read list. I found the author's knowledge of all aspects of beverage filtration to be first–rate … .It also has an excellent glossary and a full and accurate index. I highly recommend a look at this book." (Master Brewers Association of Americas, December 2008)


Detailed background and principles of beverage microfiltration (e.g., engineering, fluid flow, contaminants)


In-depth coverage of the different microfiltration formats (e.g., materials, operating, maintenance, cleaning and sanitation)


Information regarding the sizing and design of equipment


Specific examples and applications for each beverage industry