Beyond Access: Methods and Models for Increasing Retention and Learning Success Among Minority Students: New Directions for Community Colleges, Number 112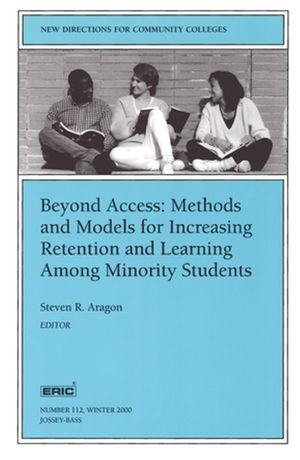 Beyond Access: Methods and Models for Increasing Retention and Learning Success Among Minority Students: New Directions for Community Colleges, Number 112
ISBN: 978-0-787-95429-1 February 2001 Jossey-Bass 120 Pages
Description
This issue presents practical models, alternative approaches and new strategies for creating effective cross-cultural courses that foster higher retention and learning success for minority students. Arguing that minority students represent various cultures and socioeconomic backgrounds, the authors discuss a wide range of issues for educators in this field, including culturally specific learning styles, work-based mentoring programs, and the role of the non-minority instructor in a minority environment. Articles critically examine traditional methods in admissions assessments, placement measures, and learning evaluation that are failing to address cultural diversity, and offer alternatives, such as a theoretical model for measuring student learning style incorporating components of motivation and engagement for inclusion with the traditional cognitive perspective. They also present a case study of one campus's efforts to create a more inclusive climate. With demographic projections indicating dramatic increases in minority student population in the following decades, the authors assert that educational programs must now develop a broader curricula that includes multicultural and multi-linguistic information. In this issue, they have provided a valuable resource for institutions meeting that challenge. This is the 112th issue of the Jossey-Bass series New Directions for Community Colleges.
1. Assessing Minority Student Performance (Romero Jalomo Jr.).
2. Community College Students' Career and Educational Goals (Frankie Santos Laanan).
3. Motivating and Maximizing Learning in Minority Classrooms (Irene M. Sanchez).
4. Using Success Courses for Promoting Persistence and Completion (Martina Stovall).
5. Increasing Retention and Success Through Mentoring (Linda K. Stromei).
6. Creating a Campus Climate in Which Diversity is Truly Valued (Evelyn Clements).
7. Using Technology to Facilitate Learning for Minority Students (Nilda Palma-Rivas).
8. Integrating Nonminority Students into the Minority Environment (Barbara K. Townsend).
9. Sources and Information Regarding Effective Retention Strategies for Students of Color (Eboni M. Zamani).