Beyond Boredom and Anxiety: Experiencing Flow in Work and Play, 25th Anniversary Edition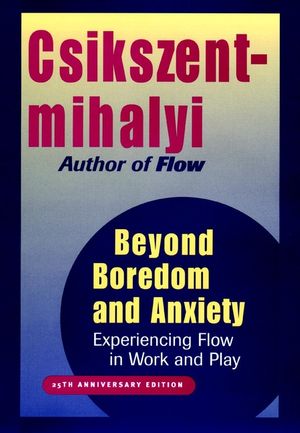 Beyond Boredom and Anxiety: Experiencing Flow in Work and Play, 25th Anniversary Edition
ISBN: 978-0-787-95140-5
Mar 2000, Jossey-Bass
272 pages
Description
Now in a special 25th anniversary edition and filled with brilliant wisdom and insights, Beyond Boredom and Anxiety offers a timeless introduction to the concept of flow and the scientific basis behind it-all through the work of one of the field's great scientists, Mihaly Csikzentmihalyi. Through real-life examples, discover how enjoyable activities provide a common experience-a satisfying, often exhilarating, feeling of creative accomplishment and heightened functioning-and under what conditions 'serious' work can also provide this intrinsic enjoyment.
Preface to the 25th Anniversary Edition.

Acknowledgements to the First Edition.

Enjoyment and Intrinsic Motivation.

Rewards of Autotelic Activities.

Structure of Autotelic Activities.

A Theoretical Model for Enjoyment.

Enjoying Games: Chess.

Deep Play and the Flow Experience in Rock Climbing.

Measuring the Flow Experience in Rock Dancing.

Enjoying Work: Surgery.

Flow Patterns in Everyday Life.

Effects of Flow Deprivation.

Politics of Enjoyment.

Tests and Procedures Used in Microflow.

Experiments.

References.

Index.
"A stimulating and revolutionary book." --Journal of Individual Psychology

"Beyond Boredom and Anxiety constitutes a major contribution to and critique of the sociology of work." --Sociology

"A very exciting book about the phenomenology of intrinsically motivated behavior. Csikszentmihalyi has done a service by directing attention to the importance of intrinsic motivation and its relationship to enjoyment and alienation." --Contemporary Psychology