Beyond Change Management: Advanced Strategies for Today's Transformational Leaders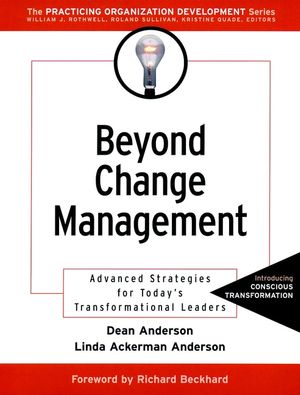 Beyond Change Management: Advanced Strategies for Today's Transformational Leaders
ISBN: 978-0-787-95922-7
Feb 2002, Pfeiffer
272 pages
Description
Transform your organization!
To truly transform your organization, you must learn to transform your own mindset. Beyond Change Management-the only book specifically about the interaction of leadership style, mindset, and the change process-revolutionizes leaders' approach to transformational change. Shattering the myth that transformation can be managed, this book-part of the Practicing OD Series--offers you new directions and ways of thinking and behaving that are essential for successful change. Its unique approach brings organization development (OD) into the mainstream of leaders' approaches to change, expanding and integrating the fields of OD, leadership, change management, and consciousness. You'll also get:
ready-to-use worksheets
questionnaires
guidelines
"Powerful business solutions to the current chaos facing many organizations today. Dean Anderson and Linda Ackerman Anderson get to the heart of change, the human touch, by using timeless techniques and tools."
--Ken Blanchard, coauthor, The One Minute Manager and Gung Ho!
"The authors combine their keen observations, sharp insights, and open hearts to produce towering works that will stand as lasting contributions to leadership and organization development. . . .[t]hey guide us along a path of personal discovery so that we may have the strength of spirit to risk the creation of more meaningful organizations."
--Jim Kouzes, coauthor, The Leadership Challenge and Encouraging the Hear
The Drivers of Change.

Three Types of Organizational Change.

Two Leadership Approaches to Transformation.

The Role and Impact of Mindset in Leading.

Fundamental Assumptions About Reality.

Conscious Process Thinking.

Change Process Models.

Developing Conscious Change Leaders.

The Leadership Choice to Transform.
"Powerful business solutions to the current chaos facing many organizations today. Dean Anderson and Linda Ackerman Anderson get to the heart of change, the human touch, by using timeless techniques and tools." --Ken Blanchard, coauthor, The One Minute Manager and Gung Ho!

"The authors combine their keen observations, sharp insights, and open hearts to produce towering works that will stand as lasting contributions to leadership and organization development. . . .[t]hey guide us along a path of personal discovery so that we may have the strength of spirit to risk the creation of more meaningful organizations." --Jim Kouzes, coauthor, The Leadership Challenge and Encouraging the Heart

"If you are serious about transforming your organization and willing to consider personal change, you must read this book" --John E. Lobbia, former chairman and CEO, DTE Energy

"This book is about mastery of leading the transformational change process written by master of the craft. A serious read for corporate leaders and consultants who consider themselves committed students of the process of organizational change." --Daryl Conner, CEO/president, ODR and author, Managing at the Speed of Change and Leading at the Edge of Chaos

"In today's world of organization change, everyone talks about the necessity of changing people's mindsets, especially people in positions of leadership. But no one tells us what mindset means, much less (how to) change it. The beauty of this easy-to-read book by Anderson and Ackerman Anderson is that they do both! A significant contribution indeed!" --W. Warner Burke, professor of psychology and education, Teachers College, Columbia University, and senior advisor, PricewaterhouseCoopers

"A compelling and practical picture of the theory, concept, and application that individuals and leaders must embrace to successfully support individual and organization transformation." --John Carter, Ph. D., GIC Organization & Systems Development Center