Beyond Control: Managing Strategic Alignment through Corporate Dialogue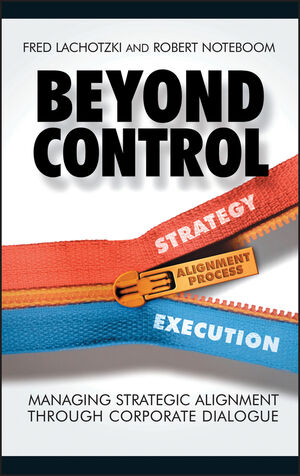 Beyond Control: Managing Strategic Alignment through Corporate Dialogue
ISBN: 978-0-470-01262-8
Aug 2005
256 pages
Description
Technology has made it possible to apply a new management philosophy. Leaders can let go and still be in control. They can involve key people without losing momentum. Companies can consistently measure organizational capability over time, and accurately benchmark 'soft' management areas, and a virtual CEO office really does work. Founded on three key insights (the operating arena; managing by pull and push; and the web-based dialogue centre), Beyond Control offers a revolutionary model for shifting the management focus from structured control to guided interaction. Using this approach companies can build a participative operating system that creates space for managers to excel, and avoids the unpleasant surprises that can lead to corporate scandals.
Introduction.
Part I: Moving Beyond Control: A New Concept.
1. Strategic Alignment: Is a New System Needed?
2. The Corporate Black Box: Understanding History.
3. The Operating Arena: Aligning the Space.
4. Leadership Beyond Control: Creating the Push.
Part II: Creating Alignment: The Continuous Dialogue.
5. The Corporate Dialogue: Activating the Agenda.
6. The Executive Dialogue Centre: Installing the Toolbox.
7. The Fundamentals: A Mindset for Pull and Push.
Part III: Managing Alignment: Leading, Rewarding and Reporting.
8. The Chief Executive Officer: Believer-in-Chief.
9. The Chief Financial Officer: Guarding the Equation.
10. The Human Resource Director: Aligning Talent.
11. The Communications Director: The Coherent, Consistent Storyline.
Epilogue.
Appendix I: Gap Analyses.
Appendix II: Campaign Invitations and Protocols.
Appendix III: A Case Study on Measuring – ABN AMRO.
Appendix IV: A Case Study on Matching – Numico.
Appendix V: A Case Study on Managing – Sara Lee/DE.
Appendix VI: How Aligned Is Your Company?
Notes.
Index.
""...every CEO, manager, board member and business student can gain something from this book..."" (Credit Control Journal, July 05)
""This book is full of well presented, sound advice..."" (Professional Manager, September 05)
""...worth a read..."" (Gulf Business, January 06)
""…important issues that need to be taken very seriously by all today's CEOs…"" (Long Range Planning, August 2006)