Beyond Interpretation: The Meaning of Hermeneutics for Philosophy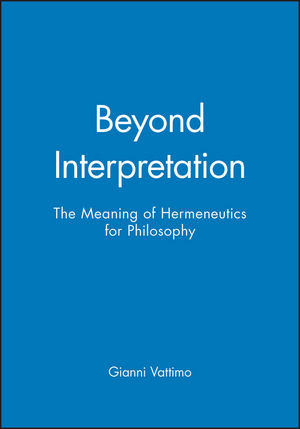 Beyond Interpretation: The Meaning of Hermeneutics for Philosophy
ISBN: 978-0-745-61753-4 February 1997 Polity 144 Pages
Description
This book by one of Europe's foremost contemporary philosophers is a concise and lucidly argued account of the meaning of hermeneutics for philosophy today.


Vattimo argues that hermeneutics, understood in a general sense, has had a pervasive influence on contemporary philosophy and social thought. But its very generality is also a symptom of its malaise, for it threatens to leave hermeneutics empty of significance and wedded to a shallow relativism.


In response to this danger, Vattimo proposes a radicalization of the relation of hermeneutics to its own historical roots in modernity and a rethinking of the relation between hermeneutics and nihilism - which involves, in Vattimo's account, a weakening of the strong structures of being, reality, subjectivity and above all, truth.


Vattimo develops a new interpretation of hermeneutics that dispenses with the traditional bias toward aesthetic experience. His radical interpretation breaks the link between hermeneutics and metaphysical humanism, challenges the traditional opposition of the natural and human sciences, and opens new perspectives on ethics, art and religion.


Beyond Interpretation will be welcomed by students and researchers in philosophy and social theory.
Preface.
1. The Nihilistic Vocation of Hermeneutics.
2. Science.
3. Ethics.
4. Religion.
5. Art.
Appendices.
1. The Truth of Hermeneutics.
2. The Reconstruction of Rationality.
Notes.
Index.
* Vattimo is one of the leading philosophers in Europe today.
* This book develops a general argument about the contemporary significance of hermeneutics - one of the most important and influential perspectives in philosophy and social theory.