Beyond Law and Policy: Reaffirming the Role of Student Affairs: New Directions for Student Services, Number 82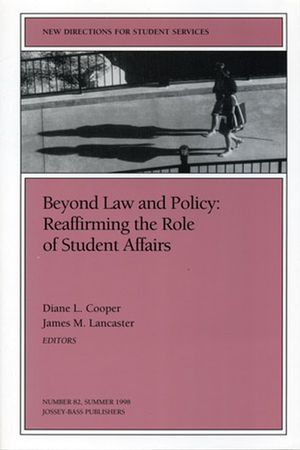 Beyond Law and Policy: Reaffirming the Role of Student Affairs: New Directions for Student Services, Number 82
ISBN: 978-0-787-94214-4 July 1998 Jossey-Bass 110 Pages
Description
This volume examines higher education's apparent overreliance on policy and shows how we can redirect our attention to the ethical and developmental issues that underlie the undergraduate experience. Authors discuss how learning communities and creeds can help achieve balance between policy and personal responsibility; how to deal with student misconduct in a way that both reduces the risk of litigation and furthers student development; and how to promote multiculturalism without compromising individual rights and freedoms. This is the 82nd issue of the quarterly journal New Directions for Student Services.
1. The Frog in the Pot: External Influences on Higher Education (Donald D. Gehring).
2. Institutional Policy and Individual Responsibility: Communities of Justice and Principle (John Wesley Lowery).
3. Development, Due Process, and Reduction: Student Conduct in the 1990s (Elizabeth M. Baldizan).
4. The Developmental Conversation: Facilitating Moral and Intellectual Growth in Our Students (Margaret A. Healy, Debora L. Liddell).
5. Meeting the Needs of All Students and Staff Members: The Challenge of Diversity (Mary F. Howard-Hamilton, Rosemary E. Phelps, Vasti Torres).
6. Navigating the Changing Climate of Moral and Ethical Issues in Student Affairs (Gregory S. Blimling).
7. Professional Ethics in a Risky World (Roger B. Winston Jr., Sue A. Sanders).
8. Standing at the Intersection: Reconsidering the Balance in Administration (James M. Lancaster, Diane L. Cooper).