Beyond Managed Care: How Consumers and Technology Are Changing the Future of Health Care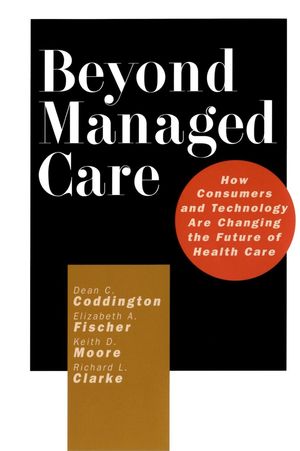 Beyond Managed Care: How Consumers and Technology Are Changing the Future of Health Care
ISBN: 978-0-787-95383-6
Aug 2000
368 pages
Description
Written for health care leaders at all levels, Beyond Managed Care identifies and assesses the key factors most likely to influence the future market for health care services-such as consumer empowerment through the Internet and the increasing demands of the aging baby boomer population-and shows providers what adjustments can be made in order to thrive in this emerging environment. The authors analyze the factors driving health care costs such as changing demographics, new medical technology, genetic and new drug research, and payment system models. The book clearly shows that organizations that are able to take organizations to the next value-added level--by providing quality, access, service, innovation, and lower costs--will be the winners.
Buy Both and Save 25%!
Original Price:$140.00
Purchased together:$105.00
save $35.00
Cannot be combined with any other offers.
Foreword by Leland Kaiser.

Acknowledgements.

Preface.

The Authors.

LESSONS LEARNED FROM THE PAST TWO DECADES.

Twenty Years of Health Care Revolution: A Look Back.

The Maturing of Managed Care.

FINANCIAL RESOURCES AVAILABLE TO FUND HEALTH CARE.

The Dynamics of the Health Care Marketplace.

How Health Care SpAnding Will Develop: TrAnds from 2000 to 2005.

Who Pays for Benefits and Who Receives Them.

EXTERNAL FACTORS INFLUENCING THE HEALTH CARE MARKETPLACE OF THE FUTURE.

The Growing Role of Consumers.

The Changing Face of America.

The Meaning of the Internet and Information Technology.

The Impact of Genetic Research, New Drugs, and Advances in Medical Technology.

TrAnds in Consolidation, Ownership, and Capacity.

The Effect of Changes in Public Policy.

The Potential of Different Payment System Models.

BEYOND MANAGED CARE: SCENARIOS FOR THE FUTURE.

Four Health Care Scenarios.

Learning from Analysis of the Four Scenarios.

References.

Index.
"Picks up where Paul Starr's Social Transformation of American Medicine left off, and will soon become a classic of equal stature." --nne Ladd, product manager, Physician Market, Micromedex, Englewood, Colorado

"The authors will enlighten and entertain you--and challenge your current mental model of health care. Their discussion of the Internet and clinical information technology is worth the price of the book." --Leland R. Kaiser, president, Kaiser Consulting, Brighton, Colorado

"A thorough review of a complex subject, and done in a way that is easily accessible. The scenarios represent a valuable starting point for health care leaders to begin to dialogue and learn about where health care may be headed." --John Koster, M.D., senior vice president/chief medical officer, Sisters of Providence Health System, Seattle, Washington

"Provides great historical perspective on the changes that health care has experienced, but more important, it sets the stage for the future. It puts together a compelling case and several exciting scenarios to move us to a new reality." --Kathryn E. Johnson, CEO, The Health Forum, San Francisco, California

"Offers valuable insights about where healthcare is headed. The four scenarios offer food for thought and represent a valuable planning tool for medical groups and others in healthcare." --Patrick A. Hinton, executive director, Jacksonville Orthopaedic Institute, Jacksonville, Florida

"This easy-to-read book will appeal to physicians and other interested in becoming more knowledgeable about the social, political, and economic problems facing medical practice Especially useful are the book's discussions of various actual and proposed payment plans...worth a quick read." (The Permenente Journal, Winter/01)