Beyond Neoliberalism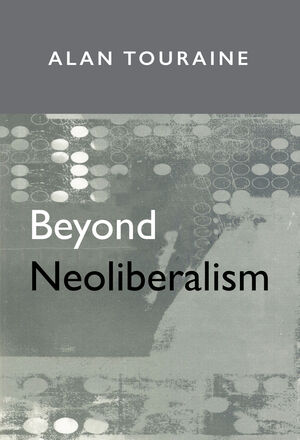 Beyond Neoliberalism
ISBN: 978-0-745-62433-4
Aug 2001, Polity
128 pages
Description
Today neoliberals argue that we should let ourselves be guided by market forces and that there is little we can do to stem the flow of economic globalization. On the other hand, thinkers on the left continue to denounce domination and claim to speak in the name of victims who are powerless to change the circumstances of their lives. Despite the differences between these two political positions, they suffer from a common weakness: they underestimate the role of autonomous social actors who are capable of influencing political decision-making.


In this important new book Alain Touraine – the leading sociologist and social theorist – attacks the positions of the neoliberals and certain thinkers on the left and develops an alternative view of the tasks for political thought and action today. He argues that the globalization of the economy has not dissolved our capacity for political action, and that the actions of the most underprivileged sections of society are not restricted to rebellion against domination: they can also demand rights (in particular, cultural rights), and can therefore put forward an innovative and not merely critical conception of society and its future.


Beyond Neoliberalism is an original and timely contribution to current debates about the changing nature and goals of politics in our contemporary, globalized age. It will be of great interest to students of politics and sociology and will also appeal to a broader readership interested in contemporary politics and current affairs.
Introduction.
1. The Return of Capitalism.
2. Four Exits.
3. New Social Movements?.
4. The Social Left and the Ultra-Left.
5. Two Possible Policies: the Third Way and a Two-and-a-Half Policy.
Conclusions.
Notes.
Index.
'The rise of neoliberalism over the past two decades – first nationally in the UK and the US, then globally – requires new analyses of capitalism and its recent transformation. But it also requires us to rethink the possible responses to it, in the form of both intellectual critique and social and political action. Unafraid of questioning old and new dogmas, Alain Touraine argues forcefully that neither the flat rejection of the new capitalism with the old arguments nor its embracing by the new social democracy will be sufficient. Provocative when it first appeared in France, this book will now certainly enrich the global debate about politico-economic alternatives at a time when it is often held, both by critics and followers of neoliberalism, that there are none.'
Peter Wagner, European University Institute
"Alain Touraine remains an intellectual spirit, a saint if you like, behind collective action and social movements everywhere". Radim Marada, Social Movement Studies
1. Touraine is one of the leading social thinkers in the world today and many of his books have been published in English.
2. Touraine advances an important new argument about how nation states can move beyond neo-liberalism.

3. This is a major new contribution to current debates about the future of social democracy.