Beyond Technology: Children's Learning in the Age of Digital Culture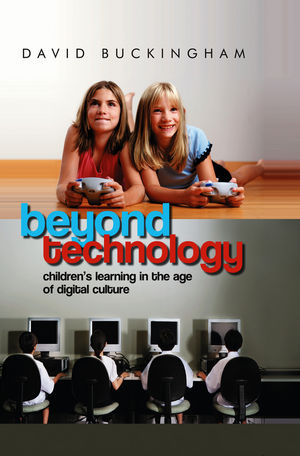 Beyond Technology: Children's Learning in the Age of Digital Culture
ISBN: 978-0-745-65530-7 April 2013 Polity 224 Pages
Download Product Flyer
Download Product Flyer
Download Product Flyer is to download PDF in new tab. This is a dummy description. Download Product Flyer is to download PDF in new tab. This is a dummy description. Download Product Flyer is to download PDF in new tab. This is a dummy description. Download Product Flyer is to download PDF in new tab. This is a dummy description.
Description
Beyond Technology
offers a challenging new analysis of learning, young people and digital media. Disputing both utopian fantasies about the transformation of education and exaggerated fears about the corruption of childhood innocence, it offers a level-headed analysis of the impact of these new media on learning, drawing on a wide range of critical research.
Buckingham argues that there is now a growing divide between the media-rich world of childrens lives outside school and their experiences of technology in the classroom. Bridging this divide, he suggests, will require more than superficial attempts to import technology into schools, or to combine education with digital entertainment. While debunking such fantasies of technological change, Buckingham also provides a constructive alternative, arguing that young people need to be equipped with a new form of digital literacy that is both critical and creative.
Beyond Technology will be essential reading for all students of the media or education, as well as for teachers and other education professionals.
Table of contents
Preface vi
Acknowledgements x
1 Selling Technology Solutions 1
The Marketing of Educational Technology
2 Making Technology Policy 14
ICTs and the New Discourses of Learning
3 Techno-Topias 31
Constructing Childhood, Learning and Technology
4 Waiting for the Revolution 50
The Unfulfilled Promise of Technological Change
5 Digital Childhoods? 75
New Media and Children's Culture
6 Playing to Learn? 99
Rethinking the Educational Potential of Computer Games
7 That's Edutainment 119
Digital Media and Learning in the Home
8 Digital Media Literacies 143
An Alternative Approach to Technology in Education
9 School's Out? 176
The Future of Schooling in the Age of Digital Media
Notes 184
References 186
Index 205
Reviews
"Though rich in empirical accounts and dense in theoretically informed analyses, this book is written in a clear and sophisticated prose."
Children & Society
"David Buckingham has written an uncommonly thoughtful cross-national study of an emerging "digital divide" between children's and youth's experience in and out of school. Understanding well the hidden structures that shape technology and schooling in a market-driven society, he unlocks persistent puzzles about technology use in school and home that most champions and critics ignore. This engaging study deserves a broad readership among policy makers, educators, media officials, and parents concerned about the current digital generation and their experiences with ICT in schools."
Larry Cuban, Stanford University

"David Buckingham adeptly illustrates how the nexus between media technologies, markets, schooling, government policies and the young is becoming increasingly intricate, imbalanced and volatile. He also forcefully demonstrates that the educational and metaphorical rhetoric that pervades this assemblage has been progressively inflated and perverse. Drawing on his deep knowledge of diverse media forms and of young people's engagements with them, both in and out of school, Buckingham proposes a form of "digital media literacy". This takes the field beyond its delusions and exclusions towards an approach with the potential to address the cultural complexities and affective intensities involved in teaching youthful digital travellers."
Jane Kenway, Monash University
Features


An original and ground breaking new analysis of learning, young people and digital media

Brings to a broad student and professional readership the very latest research and thinking on children's use of new media both in and outside of the classroom

Written by an internationally renowned scholar of media education in a very clear, accessible and straightforward manner

Will be required reading for a wide audience of students, scholars and education professionals

Sets out a provocative new argument of children's digital literacy that is likely to provoke attention and wide debate