Beyond the Box: Television and the Internet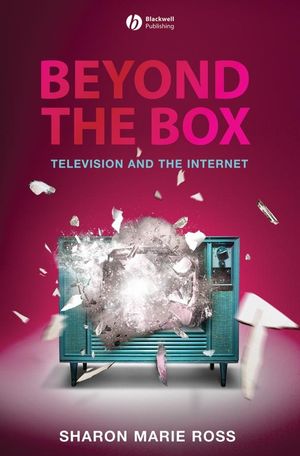 Beyond the Box: Television and the Internet
ISBN: 978-1-444-35865-0 September 2011 Wiley-Blackwell 280 Pages
Description
Beyond the Box
gives students and couch potatoes alike a better understanding of what it means to watch television in an era of profound technological change.
Charts the revolution in television viewing that is currently underway in living rooms across the world

Probes how the Internet's development has altered how television is made and consumed

Looks at a range of topics and programmes - from voting practices on American Idol to online forums for Buffy the Vampire Slayer fans

Offers a fresh and innovative perspective that focuses on the shift in audience experience and how it has blurred established boundaries
Table of contents
Introduction: Online/Offline~What It Means to "Watch (and Make) TV" in the Age of the Internet.
1. Fascinated with Fandom: the Interactively Aware Viewers of Xena and Buffy.
2. Power to the People, or the Industry?: American Idol Voting, "Adult Swim" Bumping, and Viral Video-ing.
3. Managing Millenials: Teen Expectations of Tele-Participation.
4. No Network Is An Island: Lost's Tele-participation and ABC's Return to Industry Legitimacy.
5. Conclusion: The Remains Of The Day: The Future Of "TV"
Reviews
"Ross's stance is academic, but she also considers the stance of fans, producers, creators and marketers. Together, these voices combine to create a new understanding of the connectedness of all parties in the process of telling stories, both authorised and unauthorised." (Science Fiction Film and Television, July 2010)

"Couch potato television students worldwide will gain immensely from Beyond the Box: Television and the Internet, an articulate examination of what it means to watch television in this era of profound technological change … .This book is an exciting example of what happens when an academic, spurred on by a passion, throws caution to the wind and mixes things up." (M/C Reviews: Culture & Media, January 2009)
Features
Charts the revolution in television viewing that is currently underway in living rooms across the world

Probes how the Internet's development has altered how television is made and consumed

Looks at a range of topics and programmes - from voting practices on American Idol to online forums for Buffy the Vampire Slayer fans

Offers a fresh and innovative perspective that focuses on the shift in audience experience and how it has blurred established boundaries