Beyond the Family: Contexts of Immigrant Children's Development: New Directions for Child and Adolescent Development, Number 121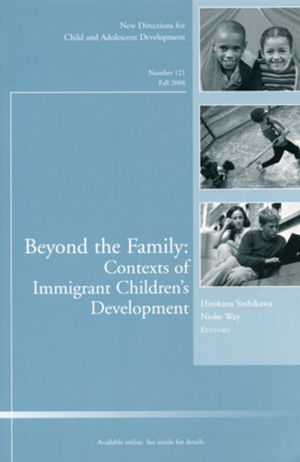 Beyond the Family: Contexts of Immigrant Children's Development: New Directions for Child and Adolescent Development, Number 121
ISBN: 978-0-470-41730-0 September 2008 Jossey-Bass 112 Pages
Description
Immigration in the United States has become a central focus of policy and public concern in the first decade of the 21st century. This volume aims to broaden developmental research on child and youth in immigrant families.

Much of the research on immigrant children and youth concentrates on family characteristics such as parenting, demographic, or human capital features. In this volume, we consider the developmental consequences for immigrant youth of broader contexts such as social networks, peer discrimination in school and out-of-school settings, legal contexts, and access to institutional resources.

Chapters answer core questions:
How do experiences of discrimination affect the lives of immigrant youth?
How do social networks of immigrant families influence children's learning?
How to immigrant parents? citizenship status influence family life and their children's development?
In examining factors as disparate at discrimination based on physical appearance, informal adult helpers, and access to drivers? licenses, these chapters serve to enrich our notions of how culture and context shape human development, as well as inform practice and public policy affecting immigrant families.
This is the 122nd volume of the Jossey-Bass quarterly report series New Directions for Child and Adolescent Development. The mission of New Directions for Child and Adolescent Development is to provide scientific and scholarly presentations on cutting edge issues and concepts in the field of child and adolescent development. Each volume focuses on a specific "new direction" or research topic, and is edited by an expert or experts on that topic.
1. From Peers to Policy: How Broader Social Contexts Influence the Adaptation of Children and Youth in Immigrant Families
(
Hirokazu Yoshikawa, Niobe Way
)
This chapter provides a theoretical overview of broader ecological and cultural models for examining child and youth development in immigrant families.
2. Building and Using a Social Network: Nurture for Low-Income Chinese American Adolescents' Learning (Jin Li, Susan D. Holloway, Janine Bempechat, Elaine Loh)
We used notions of social capital and social networks to study higher versus lower achieving Chinese adolescents from low-income backgrounds.
3. The "Model Minority" and Their Discontent: Examining Peer Discrimination and Harassment of Chinese American Immigrant Youth (Desiree Baolian Qin, Niobe Way, Meenal Rana)
Using an ecological framework, this chapter explores the reasons for peer discrimination and harassment reported by Chinese American youth in Boston and New York.
4. Mothers' Citizenship Status and Household Food Insecurity Among Low-Income Children of Immigrants (Ariel Kalil, Jen-Hao Chen)
This chapter describes the level of household food insecurity among children of immigrant mothers with and without citizenship, as well as factors that explain differences in food insecurity across the groups.
5. Access to Institutional Resources as a Measure of Social Exclusion: Relations With Family Process and Cognitive Development in the Context of Immigration (Hirokazu Yoshikawa, Erin B. Godfrey, Ann C. Rivera)
This chapter examines the consequences for family processes and young children's cognitive development of immigrant and ethnically diverse parents' access to financial institutions and drivers' licenses.
6. Afterword: New Directions in Research With Immigrant Families and Their Children (Carola Suárez-Orozco, Avary Carhill)
This chapter considers the work presented in this volume in the context of future directions for research on the development of children and youth in immigrant families.
INDEX.