Beyond the Numbers: How Leading Companies Measure and Drive Success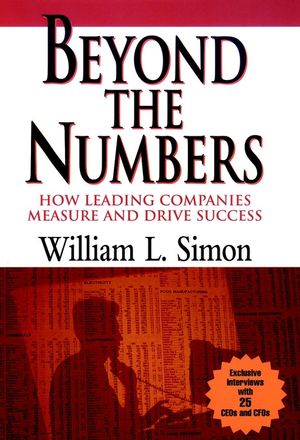 Beyond the Numbers: How Leading Companies Measure and Drive Success
ISBN: 978-0-471-28790-2
Jan 1997
304 pages
Description
Beyond the Numbers How Leading Companies Measure and Drive Success William L. Simon "This book stands at the intersection of management and money, the place where modern business fundamentals and current financial principles come together. Business managers have traditionally used accounting-based financials that looked backward, at the wake--showing where the organization had been; today, they are learning to use financials that look forward toward the horizon." --from the Preface Businesses can't afford to have a financial system which only measures its past. In order to build a successful company, you need a financial system that also shows you how to plan your company's future. This must-have book for executives, managers, analysts, and other stakeholders, will show you how to refine your current financials or thoroughly overhaul them. In Beyond the Numbers, you have the opportunity to profit from the experiences of CEOs and CFOs at market leading companies in a variety of industries. You will learn how to build a truly effective corporate financial system--one that:
* Ensures accurate financial reporting that emphasizes necessary details
* Educates key business managers about the refined financial measures needed to reach strategic goals
* Enables financial and operating managers to communicate key data analyses effectively
* Empowers key personnel throughout the company with a clear understanding of the links between financial measurements and overall business strategies
* Emphasizes the right themes when reporting financial health to investment analysts and the business press.
Numbers are meaningless unless they are gathered, interpreted, and utilized in the right way. The methods and methodologies captured in Beyond the Numbers will help you to better recognize your company's strengths, maximize its opportunities, and optimize its future.
Partial table of contents:

A Call to Action for Finance.

THE NEW METRICS: MEASURING THE VALUE-CREATING POTENTIAL.

Cash-Flow Metrics at National Semiconductor.

New Metrics at FMC and R.R.

Donnelley.

APPROACHES TO FINANCE FOR THE 90S AND BEYOND.

Planning, Decision Making and Developing People at General Electric.

Risk Management as Seen From Stanford Business School.

Purchasing as a Profit Center at Aetna.

Financials at MGM/UA.

SPECIAL PERSPECTIVES.

When the Red Ink Flows--Staving Off Bankruptcy.

START-UPS AND THE "VIRTUAL CORPORATION." Financials for a Start-Up.

The World of the "Virtual Corporation." AFTERWORD.

Shaping Your Career.

What Makes a Great CFO.

Glossary.

Notes.

Index.