Bichon Frise: Your Happy Healthy Pet, 2nd Edition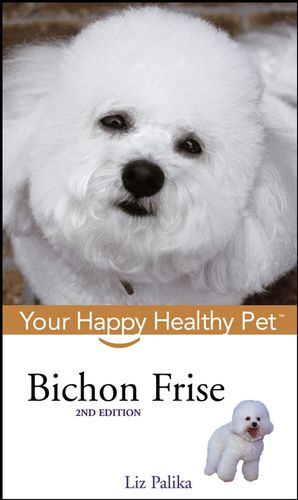 Bichon Frise: Your Happy Healthy Pet, 2nd Edition
ISBN: 978-0-764-59917-0
Apr 2006
144 pages
Product not available for purchase
Description
The authoritative information and advice you need, illustrated throughout with full-color photographs--now revised and redesigned to be even more reader-friendly!

Fluffy, white powder puffs with paws, irresistible Bichon Frises are intelligent and adaptable. They're happy up in a high-rise or down on the farm--as long as they're around people! Always ready to snuggle or play, Bichons compete in obedience and agility and make wonderful therapy dogs with their adorable looks and affectionate nature. This guide fills you in on the breed's needs and attributes, covering:
* Traits to look for, including the dark eyes and double coat
* Things you'll need to make your pup feel at home
* Feeding, grooming, and healthcare
* The importance of positive, firm training to keep the Bichon's natural independent streak under control
* Bonus chapters available on companion Web site


Your Bichon will greet you enthusiastically every time you come home. Just don't be gone too long, because you'll be missed!
Part I:
The World of the Bichon Frise.
Chapter 1: What Is a Bichon Frise?
What Does a Bichon Look Like?
The Bichon's Character.
Chapter 2: The Bichon Frise Yesterday and Today.
Origins of the Bichon Frise.
The Bichon in Modern France.
The Bichon in the United States.
The Bichon Today.
Chapter 3: Why Choose a Bichon Frise?
Are You Ready for a Dog?
The Pet Bichon.
The Problem with Popularity.
If Bichons Could Choose Their Owners.
Chapter 4: Choosing Your Bichon Frise.
Breeder, Rescue, Shelter, or Free?
Finding the Right Bichon.
Choosing the Puppy for You.
The Puppy Temperament Test.
Choosing an Adult Bichon.
Part II: Caring for Your Bichon Frise.
Chapter 5: Getting Ready for Your Bichon Frise.
A Secure Dog Yard.
Puppy-Proofing Your Home.
Basic Supplies.
Puppy Essentials.
The Great Crate.
Pet Professionals.
Bringing Home Your Bichon.
Chapter 6: Feeding Your Bichon Frise.
The Elements of a Good Diet.
Commercial Dog Foods.
Homemade Diets.
Reading Dog Food Labels.
Nutrition for a Lifetime.
When There's a Problem.
Chapter 7: Grooming Your Bichon Frise.
Grooming Equipment.
The Bichon's Coat.
Tearing and Tear Staining.
Bathing Your Bichon.
Cleaning Ears.
Trimming Toenails.
Cleaning Teeth.
Making Your Environment Flea Free.
External Parasites.
Chapter 8: Keeping Your Bichon Frise Healthy.
Choosing a Vet.
Preventive Care.
Common Health Problems.
Handling Common Problems.
Emergency How-To's.
When to Call the Veterinarian.
How to Make a Canine First-Aid Kit.
The Aging Bichon.
Part III: Enjoying Your Bichon Frise.
Chapter 9: Training Your Bichon Frise.
Understanding Builds the Bond.
Practical Commands for Family Pets.
Training for Attention.
Teaching Cooperation.
Chapter 10: Housetraining Your Bichon Frise.
Your Housetraining Shopping List.
The First Day.
Confine Your Pup.
Watch Your Pup.
Accidents Happen.
Scheduling Basics.
Chapter 11: Your Bichon Frise and Your Family.
The All Adult Family.
Babies.
Young Children.
Older Children.
Other Pets.
Car Travel.
Appendix: Learning More About Your Bichon Frise.
Some Good Books.
National Breed Club.
Registries.
Magazines.
Internet Resources.
Index.