Bickerstaff's Neurological Examination in Clinical Practice, 6th Edition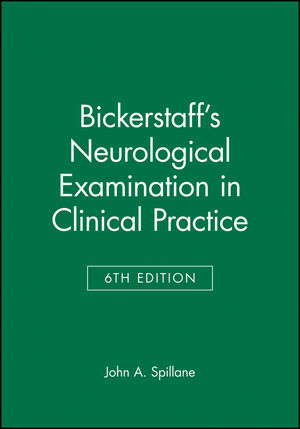 Bickerstaff's Neurological Examination in Clinical Practice, 6th Edition
ISBN: 978-0-865-42909-3
Jan 1996, Wiley-Blackwell
400 pages
Description
As teachers of neurology to postgraduates, the authors found that most students had a good general idea of the parts of a neurological examination but were unclear about many other specifics. These included, among others, the best methods of carrying out the various tests; the purpose of each test; how to overcome technical difficulties; the true meaning of abnormal findings; and how to avoid arriving at false conclusions. This book details methods that have stood the test of time and additionally outlines some newer methods that are are already proving their value. In no sense is this book either a textbook of neurology or a guide to neurological diagnosis. It does, however, aim to help the reader become sufficiently conversant with specific exam techniques to be able to approach neurological cases with much more confidence. In the sixth edition of this deservedly popular book, the general layout and structure of the chapters have been retained, a chapter on general medical investigation has been added, and the chapter on neuroradiology and imaging has been thoroughly rewritten and greatly expanded to document the vast technical and theoretical advances, particularly in imaging techniques.
Part I: The Introductory Stages.
Approaching a Neurological Problem.
Equipment.
The History.
First Impressions.
The General Physical and Mental Examination.
Part II: The Cranial Nerves.
The First Cranial Nerve: The Olfactory Nerve.
The Second Cranial Nerve: The Optic Nerve.
The Third, Fourth and Sixth Cranial Nerves: The Oculomotor, Trochlear and Abducent Nerves.
The Fifth Cranial Nerve: The Trigeminal Nerve.
The Seventh Cranial Nerve: The Facial Nerve.
The Eighth Cranial Nerve: The Auditory Nerve.
The Ninth and Tenth Cranical Nerves: The Glossopharyngeal and Vagus Nerves.
The Eleventh Cranial Nerve: The Accessory Nerve.
The Twelfth Cranial Nerve: The Hypoglossal Nerve.
Part III: The Motor System.
Development and Wasting.
Muscle Tone.
Muscle Power.
Posture, Stance, Spinal Movement and Gait.
Involuntary Movements.
Part IV: The Sensory System.
Basic Principles for Examination of Sensation.
Pain, Touch and Temperature.
The Proprioceptive Sensations.
Stereognosis, Discriminative Sense and Graphaesthesia.
Common Patterns of Abdormal Sensation.
Part V: The Motor-Sensory Links.
The Reflexes.
Co-ordination.
Part VI: Examinations of Particular Difficulty.
The Unconscious Patient.
Disorders of Speech.
Apraxia.
Agnosia and Disorders of the Body Image.
The Autonomic Nervous System.
Part VII: The Investigation of Neurological Problems.
Towards A Balanced Attitude.
General Medical Investigation.
The Cerebrospinal Fluid.
Neuroradiology and Imaging.
The Clinical Value of Electroencephalography.
Peripheral Electrophysiology.
Biopsy.
Part VIII: Appendices.
Recording the Neurological Examination.
First Examination in the Out-Patient Department or Consulting Room.
A Suggested Scheme for the Examination of Higher Cerebral Function.
Index.
"...this is an excellent book and one to be warmly recommended to those in neurological training." J. Neurology, Neurosurgery and Psychiatry on the Fifth Edition. "...a balanced and easily read account..." J. Royal College of Physicians on the Fifth Edition. "...a book of proved worth...Such good advice should be handed out to every newly qualified doctor and perhaps some already qualified." BMJ on the Fifth Edition
*includes modern investigation techniques *approach to examination "modernised" in context of advances in investigation *chapters on investigation (imaging etc) completely rewritten, old tests deleted and newer ones expanded