Big C++: Late Objects, Enhanced eText, 3rd Edition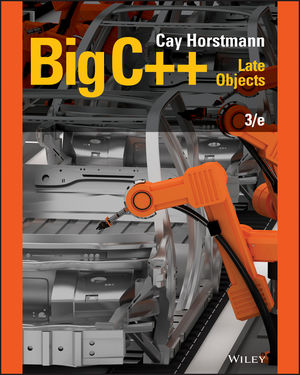 Big C++: Late Objects, Enhanced eText, 3rd Edition
ISBN: 978-1-119-40297-8 October 2017
Description
Big C++: Late Object provides an introduction to C++ and computer programming that focuses on the essentials and on effective learning. It is suitable for a two-semester sequence in C++ programming for students in computer science, engineering, technology, and the physical sciences. The Enhanced E-Text requires no prior programming experience and takes a traditional route, first stressing control structures, procedural decomposition and array algorithms. Objects are used where appropriate in early sections of the Enhanced E-Text. Students begin designing and implementing their own classes in Section 9. The second half of the Enhanced E-Text covers algorithms and data structures at a level suitable for beginning students. All Enhanced E-Text sections include many different forms of guidance to help students build confidence and tackle the task at hand, including Self Check and Practice activities along with end-of-section Review Exercises, Practice Exercises and Programming Projects.


The Enhanced E-Text is also available bundled with an abridged print companion and can be ordered by contacting customer service here:
ISBN: 9781119455615
Price: $97.95
Canadian Price: $111.50
Chapter 1 Introduction
Chapter 2 Fundamental Data Types
Chapter 3 Decisions
Chapter 4 Loops
Chapter 5 Functions
Chapter 6 Arrays and Vectors
Chapter 7 Pointers
Chapter 8 Streams
Chapter 9 Classes
Chapter 10 Inheritance
Chapter 11 Recursion
Chapter 12 Sorting and Searching
Chapter 13 Advanced C++
Chapter 14 Linked Lists, Stacks, and Queues
Chapter 15 Sets, Maps, and Hash Tables
Chapter 16 Trees
Chapter 17 Priority Queues and Heaps
Appendices
Glossary
Index
Credits
Quick Reference
The Enhanced E-Text has been Updated to Modern Versions of C++: A number of features of the C++ 2011 and C++ 2014 standards are described as either recommended best practices or as special topics.
New and Reorganized Topics: The Enhanced E-Text now supports two pathways into object-oriented programming and inheritance. Pointers and structures can be covered before introducing classes. Alternatively, pointers can be deferred until after the implementation of classes.
Added Materials: This Enhanced E-Text version supports a second course in computer science by adding coverage of the implementation of common data structures and algorithms.
Worked Examples and Exercises: A sequence of Worked Examples and Exercises introduces "media computation" - generating and modifying images, sounds and animations.
Lower-cost, Interactive Format: This cost-effective Enhanced E-Text supports active learning through a wealth of interactive resources that prepare students for independent programming assignments and includes review exercises, practice exercises, and programming projects at the end of each section.
Learning Activities: The Enhanced E-Text includes learning activities designed to foster in-depth learning. Students don't just watch animations and code traces, they generate them. These activities provide instant feedback to show students what they did right and where they need to study more.
Explicit Problem-Solving Strategies: Practical, step-by-step illustrations of techniques help students devise and evaluate solutions to programming problems. Introduced where they are most relevant, these strategies address barriers to success that many students encounter.