Big Java: Early Objects, 5th Edition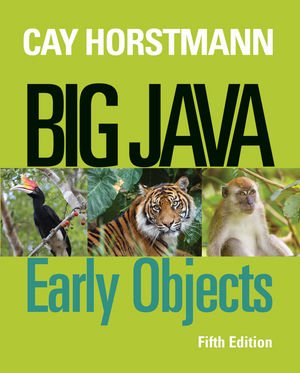 Big Java: Early Objects, 5th Edition
ISBN: 978-1-118-43111-5
Jan 2013
1072 pages
Description
Cay Horstmann's fifth edition of Big Java, Early Objectsprovides a comprehensive and approachable introduction to fundamental programming techniques and design skills, and helps students master basic concepts and become competent coders. The inclusion of advanced chapters makes the text suitable for a 2 or 3-term sequence, or as a comprehensive reference to programming in Java. Major rewrites and an updated visual design make this student-friendly text even more engaging.  Filled with realistic programming examples, a great quantity and variety of homework assignments, and lab exercises that build student problem-solving abilities, it is no wonder Big Java, Early Objectsis the number one text for early objects in the Java market.
PREFACE iii
SPECIAL FEATURES xxii
CHATER 1 INTRODUCTION 1
CHATER 2 USING OBJECTS 33
PREFACE iii
SPECIAL FEATURES xxii
CHATER 1 INTRODUCTION 1
CHATER 2 USING OBJECTS 33
CHATER 3 IMPLEMENTING CLASSES 81
CHATER 4 FUNDAMENTAL DATA TYPES 131
CHATER 5 DECISIONS 179
CHAPTER 6 LOOPS 241
CHAPTER 7 ARRAYS AND ARRAY LISTS 311
CHAPTER 9 INHERITANCE 421
CHAPTER 10 INTERFACES 463
CHAPTER 11 INPUT/OUTPUT AND EXCEPTION HANDLING 513
CHAPTER 12 OBJECT-ORIENTED DESIGN 559
CHAPTER 13 RECURSION 587
14 SORTING AND SEARCHING 629
15 THE JAVA COLLECTIONS FRAMEWORK 671
16 BASIC DATA STRUCTURES 715
17 TREE STRUCTURES 761
18 GENERIC CLASSES 819
19 GRAPHICAL USER INTERFACES 841
20 STREAMS AND BINARY INPUT/OUTPUT 881
21 MULTITHREADING (WEB ONLY)
22 INTERNET NETWORKING (WEB ONLY)
23 RELATIONAL DATABASES (WEB ONLY)
24 XML (WEB ONLY)
25 WEB APPLICATIONS (WEB ONLY)
APPENDICES
APPENDIX A THE BASIC LATIN AND LATIN-1 SUBSETS OF UNICODE A-1
APPENDIX B JAVA OPERATOR SUMMARY A-5
APPENDIX C JAVA RESERVED WORD SUMMARY A-7
APPENDIX D THE JAVA LIBRARY A-9
APPENDIX E JAVA SYNTAX SUMMARY A-53
APPENDIX F TOOL SUMMARY A-64
APPENDIX G NUMBER SYSTEMS A-68
APPENDIX H UML SUMMARY A-76
APPENDIX I JAVA LANGUAGE CODING GUIDELINES A-79
APPENDIX J HTML SUMMARY A-86
GLOSSARY G-1
INDEX I-1
CREDITS C-1
A greater emphasis on problem solving with practical step-by-step illustrations of techniques that can help students devise and evaluate solutions to programming problems.
A new visual approach that motivates the reader and eases navigation including photographs, step-by-step figures, syntax boxes, and example tables.
New exercises from science and business engage students with real world applications of Java in different industries.
An early introduction to object-oriented programming techniques, beginning in Chapter 2, provides extensive practice with objects and classes before students are asked to write their own classes.
Horstmann's clear explanations follow the beginner's thinking process, providing examples and analogies, and anticipating where they may get confused or make mistakes.
The Testing Track identifies and emphasizes the test-driven approach to programming.
The Graphics Track integrates optional graphics material into the chapters where it best fits.
Self-Check Questions test understanding, not memorization, and can be used as springboards to a deeper discussion of key concepts in each section.
Excellent problems, questions, and project suggestions.