Big Shots, 2nd Edition, Business the Rupert Murdoch Way: 10 Secrets of the World's Greatest Deal Maker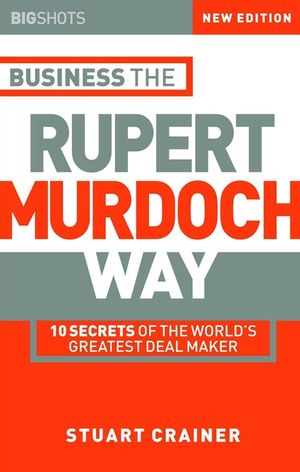 Big Shots, 2nd Edition, Business the Rupert Murdoch Way: 10 Secrets of the World's Greatest Deal Maker
ISBN: 978-1-841-12150-5 April 2002 Capstone 160 Pages
Description
Now brought completely up-to-date for this new edition, Business The Rupert Murdoch Way not only reveals the secrets of Murdoch's remarkable success but also draws out the universal lessons and identifies strategies that can be applied to any business or career. From thriving on risk to hard selling, and from loving the detail to betting big on the future, Business The Rupert Murdoch Way is a fascinating insight into what it takes to create a global business empire.
Table of contents
Rupert Murdoch Revisited...

The Life and Times of Rupert Murdoch.

One: Go with the Flow.

Two: Goodbye Mr Nice Guy.

Three: Place Your Bets.

Four: Lead from the Front.

Five: King of the Nitty Gritty.

Six: DNA Marketing.

Seven: Speed Freaks.

Eight: Think Tomorrow Today.

Nine: Ambition Never Dies.

Ten Drive the Company.

How to Succeed Like Rupert Murdoch.

Will News Corp Survive?

Further Reading.

Index.