Big Shots, Business the Bill Gates Way: 10 Secrets of the World's Richest Business Leader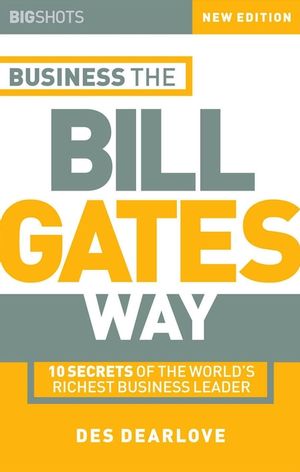 Big Shots, Business the Bill Gates Way: 10 Secrets of the World's Richest Business Leader
ISBN: 978-1-841-12148-2 April 2002 Capstone 192 Pages
Description
Brought completely up to date for this new edition, Business The Bill Gates Way not only reveals the secrets of Gates' remarkable success but also draws out the universal lessons and identifies strategies that can be applied to any business or career. From hiring very smart people to loving what you make, and from crushing your competitors to never, ever taking your eye off the ball, Business The Bill Gates Way reveals the secrets of phenomenal success.
Acknowledgments.

Bill Gates Revisited...

The Life and Times of Bill Gates.

Be in the Right Place at the Right Time.

Fall in Love with the Technology.

Take No Prisoners.

Hire Very Smart People.

Learn to Survive.

Don't Expect Any Thanks.

Assume the Visionary Position.

Cover All the Bases.

Built a Byte-Sized Business.

Never, Ever, Take Your Eyes Off the Ball.

How to Get Rich the Bill Gates Way.

Last Word.

Index.