Bike Repair and Maintenance For Dummies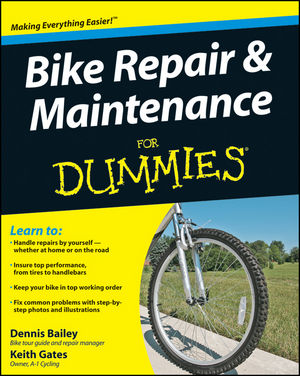 Bike Repair and Maintenance For Dummies
ISBN: 978-0-470-48036-6 February 2009 360 Pages
Description
By coupling step-by-step instructions and detailed photos and illustrations, Bike Repair & Maintenance For Dummies gives readers the information they need to keep their bikes in working order, often without taking it to the shop.
Table of contents
Introduction.
Part I: Getting Started.
Chapter 1: Channeling Your Inner Grease Monkey.
Chapter 2: Bike Physiology: Understanding How Your Bike Works.
Chapter 3: Setting Up Shop: Repairing Your Bike at Home.
Chapter 4: Making like MacGyver: Handling Repairs on the Road.
Chapter 5: Help! When You Need Professional Assistance.
Part II: Basic Bike Repairs.
Chapter 6: Burning Rubber: Tires and Tubes.
Chapter 7: Hugging the Curb: The Wheels.
Chapter 8: Stopping Short: The Brakes.
Chapter 9: Taking Your Seat: Saddles and Seat Posts.
Chapter 10: Hitting the Links: The Chain.
Chapter 11: Gearing Up: Freewheels and Cassettes.
Part III: Shifting into a Higher Gear: Advanced Bike Repairs.
Chapter 12: Holding It All Together: The Frame and Suspension.
Chapter 13: Putting the Pedal to the Metal: The Drivetrain.
Chapter 14: Dropping It into Gear: The Shifting System.
Chapter 15: Turning on a Dime: The Steering System.
Part IV: Keeping Your Bike on the Road.
Chapter 16: An Ounce of Preventive Maintenance.
Chapter 17: Regular Bike Maintenance.
Part V: The Part of Tens.
Chapter 18: Ten (Or So) Steps to Take before You Ride.
Chapter 19: Ten Considerations in Fitting Your Bike.
Chapter 20: Ten Ways to Improve the Performance and Comfort of Your Bike.
Index.