Bill Gates Speaks: Insight from the World's Greatest Entrepreneur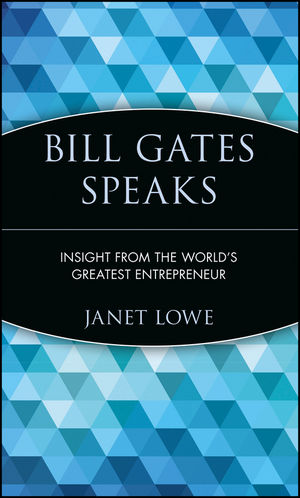 Bill Gates Speaks: Insight from the World's Greatest Entrepreneur
ISBN: 978-0-471-29353-8 October 1998 272 Pages
Description
Love him or hate him, Bill Gates has single-handedly shaped the technological future of the twenty-first century. Created through the independent research of bestselling author Janet Lowe, Bill Gates Speaks documents the life and ambitions of one of the world's most unique business and cultural leaders. The only book to compile Gates' actual words-culled from articles, newscasts, and interviews-this profile reveals what Gates has to say on everything from financing a start-up to running a conglomerate, developing technology, to raising a family.
Preface.

Growing Up Gates.

Heading Off on the Conventional Road.

Back on the High-Tech Highway.

The Gatesian Management Style.

The Microsoft Business Model.

The Computer Wars.

Microsoft Mistakes.

Attack the Future.

Others Say.

Living at the Pinnacle.

Little Time for Love.

The New Computer Culture.

Gates on Life.

The Bottom Line.

The Bill Gates Time Line.

Endnotes.