Bill Gross on Investing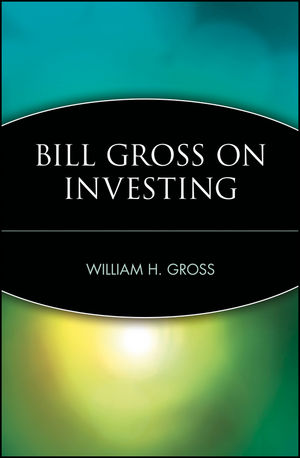 Bill Gross on Investing
ISBN: 978-0-471-28325-6 April 1998 196 Pages
Description
Learn where the markets are headed--and how to ride them to success.

Global changes point toward a dramatically different next decade in the realm of finance. As the bull markets of the last twenty years fade away, new investment tools and strategies are necessary. In this book, William Gross, one of today's most respected money managers who has built his fame on tracking economic trends, prepares readers for a completely new approach to investing. He emphasizes bonds, the right kinds of stocks, and a globalized investment portfolio for this new era in investment. In an accessible style, Gross intermingles discussions of investment with humor, wit, and personal anecdotes.

William H. Gross (Laguna Beach, California) is the founder, managing director, and CEO of Pacific Investment Management Company, which manages over $90 billion in assets for both institutional investors and individuals.
GOOD-BYE TO THE SUPER BULL.

Back to Butler Creek: Investing in the Coming Era of 6 Percent.

Row, Row, Row Your Boat: Long-Term Thinking for the Smart Investor.

THE ECONOMIC SETTING.

The Eyes Have It: Economic Cycles Good and Bad.

Easter Parade: Market Vigilantes and the Hunt for Investment Profits.

The Plankton Theory: Boomers, Busters, and the Future of Growth.

Einsteinian Economics: The Secular Trend Toward Lower Wages.

HOW TO INVEST IN A 6 PERCENT WORLD.

The Ppa and I: Resetting Your Investment Alarm Clock.

How Not to Get Scalped: Diversification and Fee Management.

Selling the Noise: Understanding and Coping with Volatility.

Echoes from Africa: Derivatives and the Nature of Risk.

WHAT TO BUY IN A 6 PERCENT WORLD.

Rolling Around Heaven All Day: Basic Investment Strategies for the Era of 6 Percent.

Men Behaving Badly: How to Ride the Yield Curve in the Era of 6 Percent.

That Old-Time Religion: Sleep Tight with Inflation-Indexed Bonds.

Fifteen Minutes of Fame: Mortgage-Backed Securities for a Great Deal on Yield.

The King of Salamasond: Investing in the Emerging Markets.

Mickey in Wonderland: The Butler Creek Care for Bonds.

Mr.

Nietzsche, Meet Mr.

Darwin: The Investment Choices You Face.

Bibliography.

Index.