Bioactive Proteins and Peptides as Functional Foods and Nutraceuticals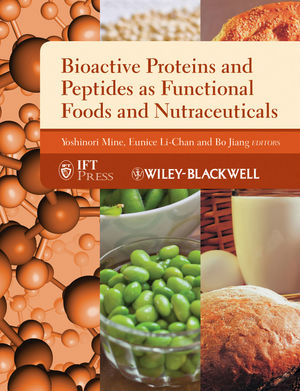 Bioactive Proteins and Peptides as Functional Foods and Nutraceuticals
ISBN: 978-0-470-96174-2 June 2011 Wiley-Blackwell 436 Pages
Description
Bioactive Proteins and Peptides as Functional Foods and Nutraceuticals highlights recent developments of nutraceutical proteins and peptides for the promotion of human health. The book considers fundamental concepts and structure-activity relations for the major classes of nutraceutical proteins and peptides. Coverage includes functional proteins and peptides from numerous sources including: soy, Pacific hake, bovine muscle, peas, wheat, fermented milk, eggs, casein, fish collagen, bovine lactoferrin, and rice. The international panel of experts from industry and academia also reviews current applications and future opportunities within the nutraceutical proteins and peptides sector.
Preface
Contributors.
PART 1 Introduction.
1 Biologically Active Food Proteins and Peptides in Health: An Overview (Yoshinori Mine, Eunice C.Y. Li-Chan, and Bo Jiang).
PART 2 Functions of Biologically Active Proteins and Peptides.
2 Anti-inflammatory/Oxidative Stress Proteins and Peptides (Denise Young and Yoshinori Mine).
3 Antioxidant Peptides (Youling L Xiong).
4 Antihypertensive Peptides and Their Underlying Mechanisms (Toshiro Matsui and Mitsuru Tanaka).
5 Food Protein–Derived Peptides as Calmodulin Inhibitors (Rotimi E. Aluko).
6 Soy Protein for the Metabolic Syndrome (Cristina Martínez-Villaluenga and Elvira González de Mejía).
7 Amyloidogenic Proteins and Peptides (Soichiro Nakamura, Takanobu Owaki, Yuki Maeda, Shigeru Katayama, and Kosuke Nakamura).
8 Peptide-Based Immunotherapy for Food Allergy (Marie Yang and Yoshinori Mine).
9 Gamma-Aminobutyric Acid (Bo Jiang, Yuanxin Fu, and Tao Zhang).
10 Food Proteins or Their Hydrolysates as Regulators of Satiety (Martin Foltz, Mylene Portier, and Daniel Tomé).
PART 3 Examples of Food Proteins and Peptides with Biological Activity.
11 Health-Promoting Proteins and Peptides in Colostrum and Whey (Hannu J. Korhonen).
12 Functional Food Products with Antihypertensive Effects (Naoyuki Yamamoto).
13 Secreted Lactoferrin and Lactoferrin-Related Peptides: Insight in Structure and Biological Functions (Dominique Legrand, Annick Pierce, and Joël Mazurier).
14 Bioactive Peptides and Proteins from Fish Muscle and Collagen (Nazlin K. Howell and Chitundu Kasase).
15 Animal Muscle-Based Bioactive Peptides (Jennifer Kovacs-Nolan and Yoshinori Mine).
16 Processing and Functionality of Rice Bran Proteins and Peptides (Rashida Ali, Frederick F. Shih, and Mian Nadeem Riaz).
17 Bioactive Proteins and Peptides from Egg Proteins (Jianping Wu, Kaustav Majumder, and Kristen Gibbons).
18 Soy Peptides as Functional Food Materials (Toshihiro Nakamori).
19 Bioactivity of Proteins and Peptides from Peas (Pisum sativum, Vigna unguiculata, and Cicer arietinum L) (Bo Jiang, Wokadala C. Obiro, Yanhong Li, Tao Zhang, and Wanmeng Mu).
20 Wheat Proteins and Peptides (Hitomi Kumagai).
PART 4 Recent Advances in Bioactive Peptide Analysis for Food Application.
21 Peptidomics for Bioactive Peptide Analysis (Icy D'Siva and Yoshinori Mine).
22 In silico Analysis of Bioactive Peptides (Marta Dziuba and Bartlomiej Dziuba).
23 Flavor-Active Properties of Amino Acids, Peptides, and Proteins (Eunice C.Y. Li-Chan and Imelda W.Y. Cheung).
24 Controlled Release and Delivery Technology of Biologically Active Proteins and Peptides (Idit Amar-Yuli, Abraham Aserin, and Nissim Garti).
Index.
""This is a very interesting reference book on the importance of bioactive proteins and peptides for
their physiological role and the overall health benefits to human well-being. This is a new addition
with many important and detailed features to the well-known subject of functional foods and neutraceuticals."" (International Journal of Dairy Technology, 2 May 2011)
""This text brings together current scientific knowledge on biologically active food proteins and peptides for health promotion and reduction of the risk of chronic diseases, or ""nutraceuticals."" (SciTech Book News, December 2010)