Bioassessment and Management of North American Freshwater Wetlands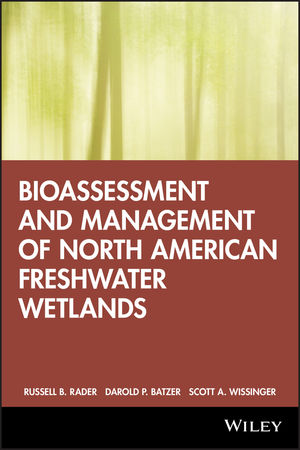 Bioassessment and Management of North American Freshwater Wetlands
ISBN: 978-0-471-21706-0
Dec 2001
480 pages
Product not available for purchase
Description
The first resource of its kind-essential practical guidance on wetlands bioassessment and management

Although bioassessment has become a vital tool in the successful management of many aquatic ecosystems, to date there has been no single book that covers the application of bioassessment principles to wetland ecosystems. This contributed volume fills this important gap in the literature, with a multifaceted look at the issues and techniques involved in the successful bioassessment and management of freshwater wetlands.

The book is divided into two parts-bioassessment and wildlife management. After a review of general bioassessment principles, Part I discusses the statistical issues related to sampling numerous sites, as well as the application of multivariate procedures and invertebrate functional groups to wetland bioassessment. A series of case studies examines bioassessment results using various organismal groups, followed by several chapters that trace the relationship between bioassessment and wetland restoration. Coverage also explores how to use and sample bacteria, algae, macrophytes, and invertebrates.

Part II covers key management topics, including many that are frequently overlooked in other treatments of the subject. Separate chapters discuss how to manage fish, waterbirds, and mosquitoes in wetlands. Other chapters address timber harvest strategies and impact assessment, as well as the biological control of an invasive wetland plant.

As wetland managers work to strike a vital balance between resource exploitation and resource protection, this book offers an important repository of practical information to use in meeting this formidable challenge. It will be welcomed by wetland managers and scientists, environmental engineers, ecologists, civil engineers, and others whose work involves wetlands study and management.
PREFACE.

CONTRIBUTORS.

1. An Introduction to Wetland Bioassessment and Management (Russell B. Rader).

Part 1: Bioassessment in Freshwater Wetlands.

2. General Principles of Establishing a Bioassessment Program (Russell B. Rader and Dennis K. Shiozawa).

3. Statistical Issues for Sampling Wetlands (Stephen L. Rathbun and Jeroen Gerritsen).

4. Use of Predictive Models for Assessing the Biological Integrity of Wetlands and Other Aquatic Habitats (Charles P. Hawkins and Daren M. Carlisle).

5. Application of Invertebrate Functional Groups to Wetland Ecosystem Function and Biomonitoring (Kenneth W. Cummins and Richard W. Merritt).

6. Using Algae to Assess Wetlands with Multivariate Statistics, Multimetric Indices, and an Ecological Risk Assessment Framework (R. Jan Stevenson).

7. Development of Biocriteria for Wetlands in Montana (Randall S. Apfelbeck).

8. Monitoring the Condition of Wetlands: Indexes of Biological Integrity Using Invertebrates and Vegetation (Judy C. Helgen and Mark C. Gernes).

9. Restoration of Wetland Plant Communities (Julia Bohnen and Susan Galatowitsch).

10. Plant and Invertebrate Communities as Indicators of Success for Wetlands Restored for Wildlife (Scott A. Wissinger, Scott G. Ingmire, and Jennifer L. Bogo).

11. Birds, Plants, and Macroinvertebrates as Indicators of Restoration Success in New York Marshes (Stephen C. Brown and Darold P. Batzer).

12. Bacteria as Biomonitors (J. Vaun McArthur).

13. Sampling Algae in Wetlands (Gordon Goldsborough).

14. Sampling Macrophytes in Wetlands (Curtis J. Richardson and Jan Vymazal).

15. Sampling Invertebrates in Wetlands (Darold P. Batzer, Aaron S. Shurtleff, and Russell B. Rader).

Part 2: Managing Freshwater Wetlands.

16. Management of Wetland Fish Populations: Population Maintenance and Control (Joel W. Snodgrass and Joanna Burger).

17. Managing Wetlands for Waterbirds (Murray K. Laubhan and James E. Roelle).

18. Mosquito Control and Habitat Modification: Case History Studies of San Francisco Bay Wetlands (Vincent H. Resh).

19. Timber Harvest in Wetlands: Strategies and Impact Assessment (Joseph P. Prenger and Thomas L. Crisman).

20. Biological Control of an Invasive Wetland Plant: Monitoring the Impact of Beetles Introduced to Control Purple Loosestrife (Bernd Blossey).

INDEX.