Biodiversity and Wheat Improvement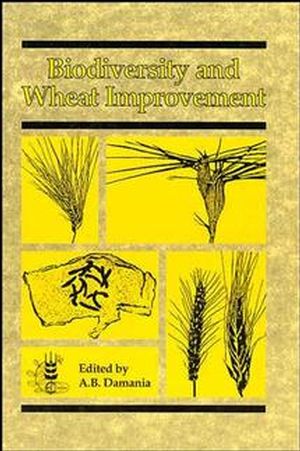 Biodiversity and Wheat Improvement
ISBN: 978-0-471-94137-8
Mar 1994
448 pages
Description
ICARDA International Center for Agricultural Research in the Dry Areas Address: P.O. Box 5466, Aleppo, Syria Telex: 331206 ICARDA SY, 331208 ICARDA SY Fax: 963-21-213490 Established in 1977, ICARDA is governed by an independent Board of Trustees. Based at Aleppo, Syria, it is one of 18 centres supported by the Consultative Group on International Agricultural Research (CGIAR), which is an international group of representatives of donor agencies, eminent agricultural scientists, and institutional administrators from developed and developing countries who guide and support its work. The CGIAR seeks to enhance and sustain food production and, at the same time, improve the socioeconomic conditions of people through strengthening national research systems in developing countries. ICARDA focuses its research efforts on areas with a dry summer, where precipitation in winter ranges from 200 mm to 600 mm. The Center has a global responsibility for the improvement of barley, lentil and faba bean, and a regional responsibility -- in West Asia and North Africa -- for the improvement of wheat, chickpea and pasture and forage crops and the associated farming systems. Much of ICARDA's research is carried out on a 948-hectare farm at its headquarters at Tel Hadya, about 35 km south-west of Aleppo. ICARDA also manages other sites where it tests material under a variety of agroecological conditions in Syria and Lebanon. However, the full scope of ICARDA's activities can be appreciated only when account is taken of the cooperative research carried out with many countries in West Asia and North Africa. The results of research are transferred through ICARDA's cooperation with national and regional research institutions, universities and ministries of agriculture, and through the technical assistance and training that the Center provides. A range of training programmes is offered, extending from residential courses for groups to advanced research opportunities for individuals. These efforts are supported by seminars and publications and by specialised information services.
Partial table of contents:

CYTOGENETICS OF THE TRITICEAE.

Applications of Molecular Cytogenetics in the Triticeae (J. Heslop-Harrison).

TAXONOMY OF THE TRITICEAE.

Variation in Breeding Systems in the Triticeae (K. Hammer & F. Matzk).

WIDE-CROSSING AND HYBRIDIZATION.

Alien Gene Transfer and Genetic Enrichment of Bread Wheat (P. Jauhar).

RESISTANCE TO DISEASES.

Use of Non-Host Resistance in Wheat Breeding (R. Niks & D. Rubiales).

ABIOTIC STRESS TOLERANCE.

Yield Components and Transpiration Efficiency in Wild Wheats (J. Waines, et al.).

EVALUATION OF BIODIVERSITY.

Isoenzymes in the Evaluation of Germplasm Diversity in Wild Diploid Relatives of Cultivated Wheat (V. Jaaska).

UTILIZATION OF BIODIVERSITY.

Seed Storage Proteins of Wild Wheat Progenitors (D. Lafiandra, et al.).

RESEARCH BY NATIONAL PROGRAMS.

Wild Wheats in Southern Italy (P. Perrino, et al.).

Summary and Recommendations.

Acronyms.

Index.