Biodiversity of Microbial Life: Foundation of Earth's Biosphere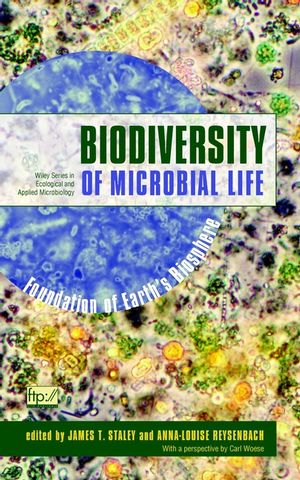 Biodiversity of Microbial Life: Foundation of Earth's Biosphere
ISBN: 978-0-471-25433-1
Nov 2001
592 pages
Description
Biodiversity of Microbial Life places the importance and novelty of the diversity of the microbial world in perspective with the biodiversity of plants and animals. Microbial diversity has driven the evolution of all life on Earth as well as the nutrient cycles, which are key to the operation of the biosphere. Microorganisms live in all ecosystems, even extreme environments not habitable to other organisms. Noted experts including Carl Woese, the originator of the Tree of Life, and Rita Colwell, who is now Director of the National Science Foundation, offer their unique perspectives on the extent and importance of microbial biodiversity. Special emphasis is placed on:
* Evolution, speciation, and contrasts between microbial biodiversity and plant and animal biodiversity
* Physiological and metabolic diversity of microorganisms
* Biodiversity of microbial life in terrestrial and marine environments
* Symbioses between microorganisms and plants, insects, and humans
* Extreme environments populated exclusively or primarily by microorganisms including thermal vents and hot springs, polar sea ice environments, and subterranean ecosystems
* Microorganisms and biotechnology

Biodiversity of Microbial Life is an essential resource for all biologists interested in biodiversity.
Preface.

Contributors.

Perspective: Microbiology in Transition (C. Woese).

PART I: EVOLUTION AND DIVERSITY OF MICROORGANISMS IN ECOSYSTEMS.

A Microbiological Perspective of Biodiversity (J. Staley).

Natural History of Microorganisms Inhabiting Hot Spring Microbial Mat Communities: Clues to the Origin of Microbial Diversity and Implications for Microbiology and Marcobiology (D. Ward, et al.).

Microbial Mats and Biofilms: Evolution, Structure, and Function of Fixed Microbial Communities (A. Teske & D. Stahl).

PART II: PHYSIOLOGICAL AND METABOLIC DIVERSITY OF MICROORGANISMS.

Evolution of Energy Metabolism (J. Leigh).

Evolution and Diversity of Photosynthethic Prokaryotes (B. Pierson).

Diversity of Microbial Heterotrophic Metabolism (J. Perry).

PART III: MICROBIAL DIVERSITY OF MAJOR ECOSYSTEMS.

Exploring the Diversity of SoilA Microbial Rain Forest (D. Buckley & T. Schmidt).

Marine Prokaryote Diversity (M. Suzuki & E. DeLong).

PART IV: BIODIVERSITY AND ROLE OF MICROORGANISMS IN PLANT AND ANIMAL SYMBIOSES.

Plant--Microbe Symbioses: An Evolutionary Survey (R. Goodman & J. Weisz).

Insights from Insect-Microbe Symbioses (M. Kane & U. Mueller).

Getting in Touch with Your Prokaryotic Self: Mammal--Microbe Interactions (A. Salyers & J. Shipman).

PART V: MICROBIAL DIVERSITY OF EXTREME ENVIRONMENTS.

Microbial Diversity of Marine and Terrestrial Thermal Springs (A.-L. Reysenbach, et al.).

And Some Like it Cold: Sea Ice Microbiology (J. Staley, et al.).

The Deep Subsurface Biosphere (T. Stevens).

PART VI: MICROBIAL DIVERSITY, BIOTECHNOLOGY AND THE FUTURE OF BIODIVERSITY.

Exploiting Microbial Diversity (A. Kuo & G. Garrity).

The Future of Microbial Diversity Research (R. Colwell).

Index.
"...memorizing bacterial taxa or biochemical pathways in the absence of an evolutionary framework leaves much to be desired. If you or your students would be more enthusiastic if this were done in association with evolutionary concepts...then you will enjoy learning more about the latest research?this book is an excellent place to start." (The Quarterly Review of Biology, Vol. 77, No. 3, September 2002)