Bioeconomic Analysis of Fisheries: An FAO Fishing Manual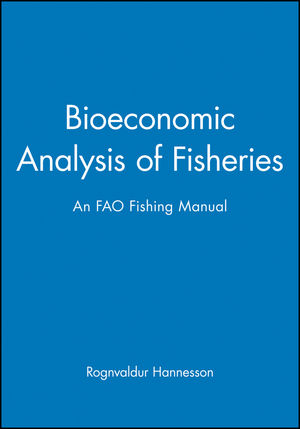 Bioeconomic Analysis of Fisheries: An FAO Fishing Manual
ISBN: 978-0-852-38198-4
Apr 1993
148 pages
Description
Fisheries management must be based on biological expertise but must also, ultimately, satisfy economic criteria. Fisheries management which disregards economic objectives and needs might well succeed in preserving fish stocks but will waste other resources such as investment funds and labout and fail to serve the fishing industry effectively. This important new work is directed to fisheries management and is designed to help achieve an optimum balance between the biological and economic requirements of fisheries. An introduction to the economic analysis of fisheries compares optimal fishing to unregulated fishing. This is followed by a discussion of three popular fishing models and the problems arising from random fluctuations in fish stocks. The final chapter deals with the political economy of fishing regulations.
Introduction;.
The economic theory of fisheries;.
Optimal exploitation of fish stocks and free access equilibrium;.
Applied fishery models;.
Fluctuations in fish stocks;.
Methods of fisheries management;.
References.
Need for guidance on alternative methods for management of fisheries to achieve the maximum sustainable financial return as distinct from the biological return. Most other books are based towards the biological aspects and ignore or underplay the political, socio-economic factors which ultimately determine the success of failure of management policies. Attempts to bring together and satisfy the needs of both fisheries biologists and fisheries economists.