Bioethics: An Anthology, 3rd Edition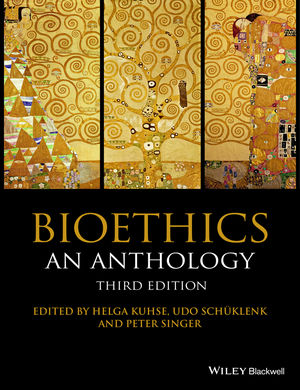 Bioethics: An Anthology, 3rd Edition
ISBN: 978-1-118-94152-2 October 2015 Wiley-Blackwell 800 Pages
Description
Now fully revised and updated, Bioethics: An Anthology, 3rd edition, contains a wealth of new material reflecting the latest developments. This definitive text brings together writings on an unparalleled range of key ethical issues, compellingly presented by internationally renowned scholars.
The latest edition of this definitive one-volume collection, now updated to reflect the latest developments in the field
Includes several new additions, including important historical readings and new contemporary material published since the release of the last edition in 2006
Thematically organized around an unparalleled range of issues, including discussion of the moral status of embryos and fetuses, new genetics, neuroethics, life and death, resource allocation, organ donations, public health, AIDS, human and animal experimentation, genetic screening, and issues facing nurses
Subjects are clearly and captivatingly discussed by globally distinguished bioethicists
A detailed index allows the reader to find terms and topics not listed in the titles of the essays themselves
Acknowledgments xii
Introduction 1
Part I Abortion 9
Introduction 11
1 Abortion and Health Care Ethics 15
John Finnis
2 Abortion and Infanticide 23
Michael Tooley
3 A Defense of Abortion 38
Judith Jarvis Thomson
4 Why Abortion Is Immoral 49
Don Marquis
Part II Issues in Reproduction 61
Introduction 63
Assisted Reproduction 69
5 Multiple Gestation and Damaged Babies: God's Will or Human Choice? 71
Gregory Pence
6 Assisted Reproduction in Same Sex Couples 74
Dorothy A. Greenfeld and Emre Seli
7 Rights, Interests, and Possible People 86
Derek Parfit
8 The Ethics of Uterus Transplantation 91
Ruby Catsanos, Wendy Rogers, and Mianna Lotz
Prenatal Screening, Sex Selection, and Cloning 103
9 Genetics and Reproductive Risk: Can Having Children Be Immoral? 105
Laura M. Purdy
10 Prenatal Diagnosis and Selective Abortion: A Challenge to Practice and Policy 112
Adrienne Asch
11 Genetic Technology: A Threat to Deafness 127
Ruth Chadwick and Mairi Levitt
12 Sex Selection and Preimplantation Genetic Diagnosis
The Ethics Committee of the American Society of Reproductive Medicine 136
13 Sex Selection and Preimplantation Diagnosis: A Response to the Ethics Committee of the American Society of Reproductive Medicine 141
Julian Savulescu and Edgar Dahl
14 Conception to Obtain Hematopoietic Stem Cells 144
John A. Robertson, Jeffrey P. Kahn, and John E. Wagner
15 Why We Should Not Permit Embryos to Be Selected as Tissue Donors 152
David King
16 The Moral Status of the Cloning of Humans 156
Michael Tooley
Part III Genetic Manipulation 173
Introduction 175
17 Questions about Some Uses of Genetic Engineering 177
Jonathan Glover
18 The Moral Significance of the Therapy–Enhancement Distinction in Human Genetics 189
David B. Resnik
19 Should We Undertake Genetic Research on Intelligence? 199
Ainsley Newson and Robert Williamson
20 In Defense of Posthuman Dignity 208
Nick Bostrom
Part IV Life and Death Issues 215
Introduction 217
21 The Sanctity of Life 225
Jonathan Glover
22 Declaration on Euthanasia 235
Sacred Congregation for the Doctrine of the Faith Killing and Letting Die 241
23 The Morality of Killing: A Traditional View 243
Germain Grisez and Joseph M. Boyle, Jr.
24 Active and Passive Euthanasia 248
James Rachels
25 Is Killing No Worse Than Letting Die? 252
Winston Nesbitt
26 Why Killing is Not Always Worse – and Sometimes Better – Than Letting Die 257
Helga Kuhse
27 Moral Fictions and Medical Ethics 261
Franklin G. Miller, Robert D. Truog, and Dan W. Brock
Severely Disabled Newborns 271
28 When Care Cannot Cure: Medical Problems in Seriously Ill Babies 273
Neil Campbell
29 The Abnormal Child: Moral Dilemmas of Doctors and Parents 285
R. M. Hare
30 Right to Life of Handicapped 290
Alison Davis
31 Conjoined Twins, Embodied Personhood, and Surgical Separation 292
Christine Overall
Brain Death 305
32 A Definition of Irreversible Coma 307
Report of the Ad Hoc Committee of the Harvard Medical School to Examine the Definition of Brain Death
33 Are Recent Defences of the Brain Death Concept Adequate? 312
Ari Joffe
34 Is the Sanctity of Life Ethic Terminally Ill? 321
Peter Singer
Advance Directives 331
35 Life Past Reason 333
Ronald Dworkin
36 Dworkin on Dementia: Elegant Theory, Questionable Policy 341
Rebecca Dresser
Voluntary Euthanasia and Medically Assisted Suicide 351
37 The Note 353
Chris Hill
38 When Self]Determination Runs Amok 357
Daniel Callahan
39 When Abstract Moralizing Runs Amok 362
John Lachs
40 Trends in End]of]Life Practices Before and After the Enactment of the Euthanasia Law in the Netherlands from 1990 to 2010: A Repeated Cross]Sectional Survey 366
Bregje D. Onwuteaka]Philipsen, Arianne Brinkman]Stoppelenburg, Corine Penning, Gwen J. F. de Jong]Krul, Johannes J. M. van Delden, and Agnes van der Heide
41 Euthanasia in the Netherlands: What Lessons for Elsewhere? 377
Bernard Lo
Part V Resource Allocation 381
Introduction 383
42 Rescuing Lives: Can't We Count? 387
Paul T. Menzel
43 Should Alcoholics Compete Equally for Liver Transplantation? 390
Alvin H. Moss and Mark Siegler
44 The Value of Life 397
John Harris
45 Bubbles under the Wallpaper: Healthcare Rationing and Discrimination 406
Nick Beckstead and Toby Ord
Part VI Obtaining Organs 413
Introduction 415
46 Organ Donation and Retrieval: Whose Body Is It Anyway? 417
Eike]Henner W. Kluge
47 The Case for Allowing Kidney Sales 421
Janet Radcliffe]Richards, A. S. Daar, R. D. Guttmann, R. Hoffenberg, I. Kennedy, M. Lock, R. A. Sells, N. Tilney, and for the International Forum for Transplant Ethics
48 Ethical Issues in the Supply and Demand of Human Kidneys 425
Debra Satz
49 The Survival Lottery 437
John Harris
Part VII Experimentation with Human Participants 443
Introduction 445
Human Participants 449
50 Ethics and Clinical Research 451
Henry K. Beecher
51 Equipoise and the Ethics of Clinical Research 459
Benjamin Freedman
52 The Patient and the Public Good 466
Samuel Hellman
53 Scientific Research Is a Moral Duty 471
John Harris
54 Participation in Biomedical Research Is an Imperfect Moral Duty: A Response to John Harris 483
Sandra Shapshay and Kenneth D. Pimple
55 Unethical Trials of Interventions to Reduce Perinatal Transmission of the Human Immunodeficiency Virus in Developing Countries 489
Peter Lurie and Sidney M. Wolfe
56 We're Trying to Help Our Sickest People, Not Exploit Them 495
Danstan Bagenda and Philippa Musoke]Mudido
57 Medical Researchers' Ancillary Clinical Care Responsibilities 497
Leah Belsky and Henry S. Richardson
Human Embryos – Stem Cells 503
58 President Discusses Stem Cell Research 505
George W. Bush
59 Killing Embryos for Stem Cell Research 508
Jeff McMahan
Part VIII Experimentation with Animals 521
Introduction 523
60 Duties towards Animals 527
Immanuel Kant
61 A Utilitarian View 529
Jeremy Bentham
62 All Animals Are Equal 530
Peter Singer
63 Vivisection, Morals and Medicine: An Exchange 540
R. G. Frey and Sir William Paton
Part IX Public Health Issues 551
Introduction 553
64 Ethics and Infectious Disease 555
Michael J. Selgelid
65 Rethinking Mandatory HIV Testing during Pregnancy in Areas with High HIV Prevalence Rates: Ethical and Policy Issues 565
Udo Schüklenk and Anita Kleinsmidt
66 Mandatory HIV Testing in Pregnancy: Is There Ever a Time? 572
Russell Armstrong
67 XDR]TB in South Africa: No Time for Denial or Complacency 582
Jerome Amir Singh, Ross Upshur, and Nesri Padayatchi
Part X Ethical Issues in the Practice of Healthcare 591
Introduction 593
Confidentiality 597
68 Confidentiality in Medicine: A Decrepit Concept 599
Mark Siegler
69 The Duty to Warn and Clinical Ethics: Legal and Ethical Aspects of Confidentiality and HIV/AIDS 603
Christian Säf ken and Andreas Frewer
Truth-Telling 611
70 On a Supposed Right to Lie from Altruistic Motives 613
Immanuel Kant
71 Should Doctors Tell the Truth? 615
Joseph Collins
72 On Telling Patients the Truth 621
Roger Higgs
Informed Consent and Patient Autonomy 629
73 On Liberty 631
John Stuart Mill
74 From Schloendorff v. NewYork Hospital 634
Justice Benjamin N. Cardozo
75 Informed Consent: Its History, Meaning, and Present Challenges 635
Tom L. Beauchamp
76 The Doctor–Patient Relationship in Different Cultures 642
Ruth Macklin
77 Amputees by Choice 654
Carl Elliott
78 Rational Desires and the Limitation of Life]Sustaining Treatment 665
Julian Savulescu
79 The Nocebo Effect of Informed Consent 683
Shlomo Cohen
Part XI Special Issues Facing Nurses 693
Introduction 695
80 The Relation of the Nurse to the Doctor and the Doctor to the Nurse 699
Sarah E. Dock
81 In Defense of the Traditional Nurse 700
Lisa H. Newton
82 Patient Autonomy and Medical Paternity: Can Nurses Help Doctors to Listen to Patients? 708
Sarah Breier
83 Health and Human Rights Advocacy: Perspectives from a Rwandan Refugee Camp 718
Carol Pavlish, Anita Ho, and Ann]Marie Rounkle
Part XII Neuroethics 729
Introduction 731
84 Neuroethics: An Agenda for Neuroscience and Society 733
Jonathan D. Moreno
85 How Electrical Brain Stimulation Can Change the Way We Think 741
Sally Adee
86 Neuroethics: Ethics and the Sciences of the Mind 744
Neil Levy
87 Freedom of Memory Today 749
Adam Kolber
88 Towards Responsible Use of Cognitive]Enhancing Drugs by the Healthy 753
Henry Greely, Barbara Sahakian, John Harris, Ronald C. Kessler, Michael Gazzaniga, Philip Campbell, and Martha J. Farah
89 Engineering Love 760Julian Savulescu and Anders Sandberg
Index 762
The latest edition of this definitive one-volume collection, now updated to reflect the latest developments in the field
Includes several new additions, including important historical readings and new contemporary material published since the release of the last edition in 2006