Biofuels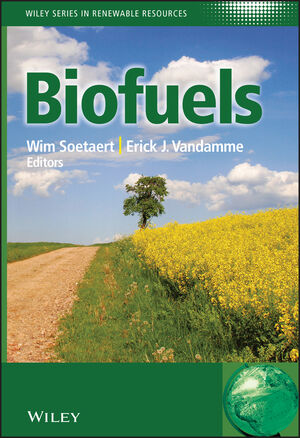 Biofuels
ISBN: 978-1-119-96536-7 August 2011 256 Pages
Description
This book gives a broad overview of the key topics in this field of study, approaching them from a technical and economic angle giving the reader a comprehensive insight into biofuels as a whole. Dealing specifically with liquid and gaseous biofuels that can be produced from renewable resources this text also gives a summary of the past, present and future production technologies and applications of biofuels. 
This book is particularly relevant as it highlights the extensive debate of the on-going global needs to find alternative fuels, making it not only a necessary text for working professionals and researchers in the field, but for anyone with an interest in sustaining the earth.
Table of contents
Series Preface
Preface
List of Contributors
Chapter 1
Biofuels in Perspective
W. Soetaert and E. Vandamme
Fossil versus renewable energy resources
Economic impact
Comparison of bio-energy sources
Conclusion
References
Chapter 2
Sustainable Production of Cellulosic Feedstock for Biorefineries in the U.S.A.
James R. Hettenhaus, Brent Erickson and Matthew T. Carr
Introduction
Availability of Cellulosic Feedstocks
Feedstock Options
Sustainable Removal
Erosion Control
Tilling Practice
Transitioning to No-till
Realizing Removal
Removal Economics
Climate Change Mitigation
Pretreatment
Farmer in Value Chain
The Start—Preprocessing Pentose Sugars and Lignin
Continuing downstream—Fungible Fermentation Sugars
Looking Upstream
Logistics
Conclusions
Policy Recommendations
References
Chapter 3
Bio-ethanol Development in the U.S.A.
Brent Erickson and Matthew T. Carr

Introduction
Federal Policy
The U.S. Ethanol Market
Corn Ethanol Technology
Cellulosic Ethanol
The Future
References
Chapter 4
Bio-ethanol development(s) in Brazil
Arnaldo Walter
Introduction
The Brazilian experience with ethanol
Policy and regulatory instruments applied to deploy large-scale ethanol production
Cost reductions
Technological development
Is the ethanol production in Brazil sustainable?
Is Brazilian experience replicable?
Conclusions
References
Chapter 5
Process Technologies for Biodiesel Production
Introduction
Biodiesel Production Worldwide
Feedstocks for Biodiesel Production
Chemical Principles of Biodiesel Production [5]
Catalysts for transesterification and esterification reactions
Alkaline catalysis
Acid catalysis
Heterogeneous catalysis
Enzymes as Catalysts
Transesterification in supercritical alcohols
Alternative approaches
Overview of Process Technologies
Single Feedstock Technologies
Multi Feedstock Technologies
Small scale production units
Alternative process technologies
Chapter 6
Bio-based Fischer-Tropsch Diesel Production Technologies
Robin Zwart & René van Ree
Chapter 7
Plant Oil Biofuel: Rationale, Production and Application
Dr. Barnim Jeschke
Introduction
Plant Oil Biofuels – the underlying Idea
History of the Plant Oil Fuel Market
Positioning of Plant Oils within the Biofuel Markets
Perspectives of the Plant Oil Fuel Market
The Market
Market Drivers
System Requirements
Plant Oil Conversion Technology
One Tank System
Two Tank System
The User Perspective
Engine Suitability for Plant Oil Conversion
Choice of Conversion Technology and Approach
Operations and Maintenance
References
Chapter 8
Enzymatic production of biodiesel
Hideki Fukuda
Introduction
Enzymatic transesterification by lipase
Use of extracellular lipases
Transesterification with various types of alcohol
Effective methanolysis using extracellular lipase
Phenomenon of acyl migration in presence of lipase
Use of intracellular lipase as whole-cell biocatalyst
Immobilization by BSP-technology
Methanolysis in a packed-bed reactor using cells immobilized within BSPs
Effect of fatty acid cell membrane composition
Lipase localization in cells immobilized within BSPs
Use of cell-surface displaying cells as whole-cell biocatalyst
Novel cell-surface display system
Flocculation profile of yeast cells displaying FSProROL and FLProROL fusion proteins
Methanolysis reaction using yeast cells displaying ProROL
Conclusions and future prospects
References
Chapter 9
Production of Biodiesel from waste lipids
R. Verhé, C.V. Stevens
Introduction
Alternative resources for biodiesel production
Conversion of waste frying and cooking oils into biodiesel 
 Processing of crude and waste lipids into biodiesel
Conclusion
References
Chapter 10
Biomass Digestion to Methane in Agriculture: A Successful Pathway for the Energy Production and Waste Treatment Worldwide
P. Weiland, W. Verstraete& A. Van Haandel
Brazil
Biogas production configurations
Configurations for wastewater digestion
Different process configurations for wet digestion fermenters
Different process configurations for dry digestion fermenters
Biogas utilization
Outlook
Chapter 11
Biological hydrogen production by anaerobic microorganisms
W.M. Kengen, Heleen P. Goorissen, Marcel Verhaart, Ed W.J. van Niel, Pieternel A.M. Claassen and Alfons J.M. Stams
Introduction
Hydrogen formation in natural ecosystems
Thermodynamics of hydrogen formation
Enzymology
Enterobacteria
The genus Clostridium
The genus Caldicellulosiruptor
The genus Thermoanaerobacter
The genus Thermotoga
The genus Pyrococcus/Thermococcus
Approaches for improving hydrogen production
Concluding remarks
Acknowledgment
References
Chapter 12
Improving Sustainability of the Corn-Ethanol Industry
Paul W. Gallagher and Hosein Shapouri
Introduction
Energy Balance
Crop Production and Greenhouse Gas Emissions
CO2 Adjustment in a Changing Ethanol Industry
Conclusions
References
Reviews
?This compilation provides a worthwhile insight into the past accomplishments, future needs, and economics in developing this industry that will meet a growing demand for energy.? (
CHOICE
, October 2009)
"This book highlights in a highly topical, competent and clear-cut presentation the significance of producing energy carriers from biobased feedstocks and their transformation processes. It encompasses developments in agriculture and a multitude of production technologies regarding both sustainability of future feedstock and requirements of human nutrition." (Starch, June 2009)