Biogeography: An Ecological and Evolutionary Approach, 7th Edition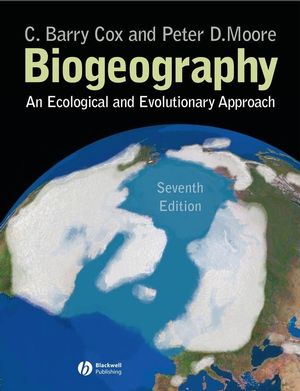 Biogeography: An Ecological and Evolutionary Approach, 7th Edition
ISBN: 978-1-444-31117-4 April 2009 Wiley-Blackwell 440 Pages
Description
The latest edition of this highly successful and popular textbook has been completely revised and updated to include the latest developments in biogeography. It offers excellent insight into the multi-disciplinary nature of biogeography, providing the student with a sound historical base, up-to-date factual content and a clear explanation of current controversies.

New chapter on molecular evidence for the interpretation of patterns of biogeography

New section on the biogeography of parasitic diseases

Strong use of references providing a platform for advanced students to follow further debate in the current literature

Balanced treatment of continental biogeography, island biogeography and marine biogeography
1. Introduction to Biogeography.
2. A History of Biogeography.
3. Patterns of Biodiversity.
4. Patterns of Distribution.
5. Communities and Ecosystems.
6. The Source of Novelty.
7. Life, Death and Evolution on Islands.
8. Living in the Past.
9. The Geography of Life Today.
10. Ice and Change.
11. Transforming the Planet.
12. Drawing Lines in the Water.
13. Interpreting the Past I Molecular and Isotopic Biogeography.
14. Interpreting the Past II Principles and Practice.
15. Foretelling the Future.
Index
Features new chapters on the history of biogeography and molecular evidence for the interpretation of patterns of biogeography
Features new teaching features such as chapter summaries to guide students, key concept boxes allowing students to see important themes and ideas at a glance, methodology boxes and artwork CD-ROM available to instructors
Includes a new section on the biogeography of parasitic diseases
"May I congratulate [Cox and Moore] in once again, making a subject that requires of the student a certain breadth of experience and a willingness to embrace many disciplines, attractive appealing and accessible…this publication will continue to be the authoritative and highly acclaimed text for students of biogeography"
Dr Malcolm Greenwood, Loughborough University, UK
<!--end-->
"This is a great compendium of the science of Biogeography, broad but full of details…with new references and good coverage of recent breakthroughs. Its well-balanced coverage of most major biomes, including marine systems, really stand out"Professor George Robinson, SUNY at Albany, US

"The latest edition of Biogeography is an excellent overview of the history of biogeography and related sciences and how this has culminated in the latest advances in biogeography."
Blumea, June 2005

"All in all, Cox and Moore have written an ejoyable, very readable book..."
Systematic Biology, April 2006

"An excellent introductory text on biogeography...clearly and neatly written, very well structured and effectively illustrated...yet again, the authors have very successfully revitalized their classic text and I am absolutely certain that it will remain a bestseller for many more years to come." Martin Kent (University of Plymouth) in Progress in Physical Geography
Strong use of references provide a platform for advanced students to follow further debate in the current literature

Contains a balanced treatment of continental biogeography, island biogeography and marine biogeography