Biohazardous Waste: Risk Assessment, Policy, and Management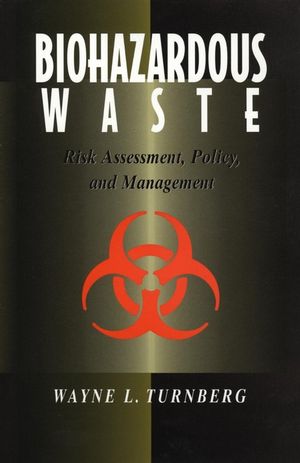 Biohazardous Waste: Risk Assessment, Policy, and Management
ISBN: 978-0-471-59421-5 March 1996 422 Pages
Description
Issues associated with biohazardous waste have come into sharp focus in recent years due to public concern over AIDS and the medical waste wash-ups along U.S. beaches and coastal communities in 1988. This comprehensive volume covers all important areas of biohazardous waste management, from regulation to collection to disposal.

Promoting safe, sensible, and ecologically sound solutions throughout, this book
* Discusses risk assessment in terms of human health, persistence of pathogens in the environment, and how these relate to methods of waste disposal
* Deals with questions of policy and environmental regulations that include workplace health and safety and public health issues
* Reviews the medical industry's standards and guidelines for dealing with its waste stream and how they fit in with the EPA's program of medical waste tracking
* Details specific waste management strategies for both major facilities and home healthcare
* Examines the available technologies for dealing with biohazardous waste, particularly incineration and steam sterilization
* Reviews the many alternative treatment technologies, including specifics of newly developed systems and procedures for evaluating their effectiveness and safety
* Lists resources and contacts to help keep up with new technologies and management techniques, and includes appendices with federal and state OSHA contacts and state medical waste contacts
* Provides many illustrations to highlight the text


For professionals in public health, medicine, and waste management; regulatory officials at all levels of government; and environmental scientists and engineers, this volume brings the field of biohazardous waste up-to-date while serving as an excellent guide and reference to some of the more compelling issues of our time.
RISK ASSESSMENT.

Health Hazard Assessment.

POLICY.

Biohazardous Waste Regulation.

Guidelines and Industry Standards.

EPA Demonstration Medical Waste Tracking Program.

MANAGEMENT.

Facility Management.

Home Healthcare Waste Management.

Medical Waste Incineration.

Steam Sterilization.

Alternative Treatment Technologies.

Alternative Technology Evaluation Guidelines.

Hazardous Drug Waste Management.

Appendices.

Index.