Bioinformatics For Dummies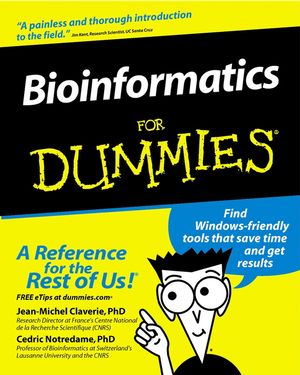 Bioinformatics For Dummies
ISBN: 978-0-764-51696-2
Jan 2003
480 pages
Product not available for purchase
Description
Bioinformatics – the process of searching biological databases, comparing sequences, examining protein structures, and researching biological questions with a computer – is one of the marvels of modern technology that can save you months of lab work. And the most amazing part is that, if you know how, you can use highly sophisticated programs over the Internet without paying a dime and sometimes, without installing anything new on your own computer. All you need to know is how to use these technological miracles.

That's where Bioinformatics For Dummies comes in. If you want to know what bioinformatics is all about and how to use it without wading through pages of computer gibberish or taking a course full of theory, this book has the answers in plain English. You'll find out how to
Use Internet resources
Understand bioinformatics jargon
Research biological databases
Locate the sequences you need
Perform specific tasks, step by step
Written by two experts who helped develop the science, Bioinformatics For Dummies is all about getting things done. If you're just getting your feet wet, start at the beginning with a quick review of those necessary parts of microbiology and an overview of the tools available. If you already know what you want to do, you can go directly to a chapter that shows you how. Get the lowdown on
Researching and analyzing DNA and protein sequences
Gathering information from all published sources
Searching databases for similar sequences and acquiring information about gene functions through sequence comparisons
Producing and editing multiple sequence comparisons for presentation
Predicting protein structures and RNA structures
Doing phylogenetic analysis
With an Internet connection and Bioinformatics For Dummies, you'll discover how to peruse databases that contain virtually everything known about human biology. It's like having access to the world's largest lab, right from your desk. This book is your lab assistant – one that never takes a day off, never argues when you ask it for help, and won't demand a benefits package.
Introduction.
Part I: Getting Started in Bioinformatics.
Chapter 1: Finding Out What Bioinformatics Can Do for You.
Chapter 2: How Most People Use Bioinformatics.
Part II: A Survival Guide to Bioinformatics.
Chapter 3: Using Nucleotide Sequence Databases.
Chapter 4: Using Protein and Specialized Sequence Databases.
Chapter 5: Working with a Single DNA Sequence.
Chapter 6: Working with a Single Protein Sequence.
Part III: Becoming a Pro in Sequence Analysis.
Chapter 7: Similarity Searches on Sequence Databases.
Chapter 8: Comparing Two Sequences.
Chapter 9: Building a Multiple Sequence Alignment.
Chapter 10: Editing and Publishing Alignments.
Part IV: Becoming a Specialist: Advanced Bioinformatics Techniques.
Chapter 11: Working with Protein 3-D Structures.
Chapter 12: Working with RNA.
Chapter 13: Building Phylogenetic Trees.
Part V: The Part of Tens.
Chapter 14: The Ten Commandments When Using Servers.
Chapter 15: Some Useful Bioinformatics Resources.
Glossary.
Index.
"…buy soon and read fast!…" (
Spixiana
, July 2004)
"...will be of enormous practical assistance to anyone getting to grips with bioinformatics tools in the course of their research..." (Briefings in Bioinformatics, June 2003)
View the Bonus Material for this title.
View the Bonus Material for this title.