Bioinformatics and Functional Genomics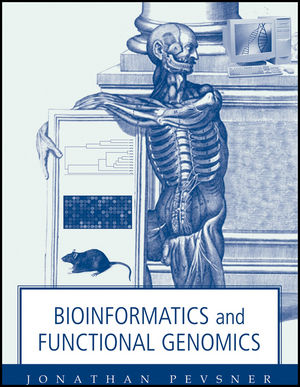 Bioinformatics and Functional Genomics
ISBN: 978-0-471-45917-0
Mar 2005
792 pages
Description
Wiley is proud to announce the publication of the first ever broad-based textbook introduction to Bioinformatics and Functional Genomics by a trained biologist, experienced researcher, and award-winning instructor. In this new text, author Jonathan Pevsner, winner of the 2001 Johns Hopkins University "Teacher of the Year" award, explains problem-solving using bioinformatic approaches using real examples such as breast cancer, HIV-1, and retinal-binding protein throughout. His book includes 375 figures and over 170 tables. Each chapter includes: Problems, discussion of Pitfalls, Boxes explaining key techniques and math/stats principles, Summary, Recommended Reading list, and URLs for freely available software. The text is suitable for professionals and students at every level, including those with little to no background in computer science.
Foreword.
Preface.
PART I: ANALYZING DNA, RNA, AND PROTEIN SEQUENCES IN DATABASES.
1. Introduction.
2. Access to Sequence Data and Literature Information.
3. Pairwise Sequence Alignment.
4. Basic Local Alignment Search Tool (BLAST).
5. Advanced BLAST Searching.
PART II: GENOMEWIDE ANALYSIS OF RNA AND PROTEIN.
6. Bioinformatic Approaches to Gene Expression.
7. Gene Expression: Microarray Data Analysis.
8. Protein Analysis and Proteomics.
9. Protein Structure.
10. Multiple Sequence Alignment.
11. Molecular Phylogeny and Evolution.
PART III: GENOME ANALYSIS.
12. Completed Genomes and the Tree of Life.
13. Completed Genomes: Viruses.
14. Completed Genomes: Bacteria and Archaea.
15. Eukaryotic Genomes: Fungi.
16. Eukaryotic Genomes: From Parasites to Primates.
17. Human Genome.
18. Human Disease.
Epilogue.
Appendix: GCG for Protein and DNA Analysis.
Glossary.
Solutions to Self-Test Quizzes.
Subject Index.
Author Index.
"…provides non-trivial tools and biological motivations to learn bioinformatics." (J
ournal of Statistical Computation & Simulation
, January 2005)
"...ideal both for biologists who want to master the application of bioinformatics to real-world problems and for computer scientists who need to understand the biological questions that motivate algorithms." (Quarterly Review of Biology, March-May 2005)
"…this appears to be an excellent textbook for graduate students and upper level undergraduate students." (Annals of Biomedical Engineering, July 2004, 32, 7)
"…highly recommended for academic and medical libraries, and for researchers as an introduction and reference…" (E-Streams, Vol. 7, No. 4)
"...an intriguing work targeted toward biologists wanting to solve problems...provides a compendium of many biological insights and breakthroughs and will be a useful resource...highly recommended." (Choice, Vol. 41, No. 7, March 2004)
Attractive two-color page design throughout, along with a section of full color figures
Features 375 figures and 170 tables
Each chapter includes a Problem Set, Pitfalls section, Boxes explaining key techniques and math/stats principles, Summary, Recommended Reading, and a list of freely available software
Companion website at www.bioinfbook.org, including answers to problem sets and complete PowerPoint presentations organized by chapter
Consistent use of breast cancer, retinal-binding protein (RBP), and HIV-1 as real-life illustrative examples
Key terms are highlighted in boldface and defined in the Glossary