Biological Psychology: An Illustrated Survival Guide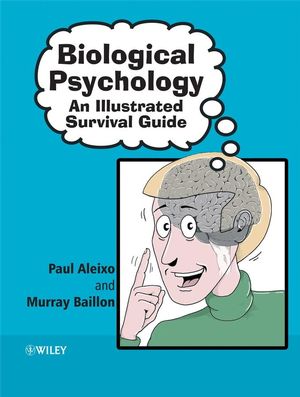 Biological Psychology: An Illustrated Survival Guide
ISBN: 978-0-470-87101-0 April 2008 278 Pages
Description
"This fantastic introduction to Biological Psychology brings the subject to life in a way that no traditional textbook can. I will certainly be recommending it."   Brian Wink, Southampton Solent University

"My first reaction was that it was both imaginative and courageous. Having read it, I would add that it also makes a significant contribution to the available texts on biological psychology. This approach is just what students are looking for."   Graham Mitchell, University of Northampton

Taking a refreshingly innovative approach to the subject, Biological Psychology: An Illustrated Survival Guide uses cartoons as an effective teaching medium. Each chapter is organised into a mini lecture, and offers an accessible introduction to key topics including:
The brain and nervous system

Vision and audition
The mechanical and chemical senses
Emotions and sexual behaviour
Memory and learning
Intended to complement traditional textbooks in the area, Biological Psychology: An Illustrated Survival Guide provides undergraduate and 'A' level students with an alternative introduction to biological psychology and an invaluable study aid.
About the Authors.
How to Use this Book.
Acknowledgements.
Introduction.
Chapter 1. The Brain and the Nervous System.
Chapter 2. Vision and Audition.
Chapter 3. The Mechanical Senses.
Chapter 4. The Chemical Senses.
Chapter 5. The Control of Movement.
Chapter 6. Temperature Regulation Hunger and Thirst.
Chapter 7. Emotions and Sexual Behaviour.
Chapter 8. Sleep and Biological Rhythms.
Chapter 9. Memory and Learning.
Chapter 10. Evolutionary Psychology.
References.
Subject Index.
A readable introduction to biological psychology, using cartoons as well as traditional text to create an engaging learning experience
Cartoons emulate a lecture format, providing a non-threatening step-by-step account of the key topics in the area
Traditional text sections consolidate information for students, ensure the required degree of rigour and help with knowledge retention and revision