Biology Inquiries: Standards-Based Labs, Assessments, and Discussion Lessons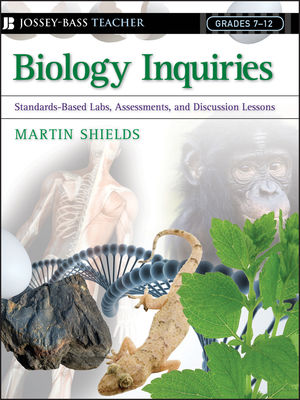 Biology Inquiries: Standards-Based Labs, Assessments, and Discussion Lessons
ISBN: 978-0-787-97652-1 October 2005 Jossey-Bass 304 Pages
Description
Biology Inquiries offers educators a handbook for teaching middle and high school students engaging lessons in the life sciences. Inspired by the National Science Education Standards, the book bridges the gap between theory and practice. With exciting twists on standard biology instruction the author emphasizes active inquiry instead of rote memorization. Biology Inquiries contains many innovative ideas developed by biology teacher Martin Shields. This dynamic resource helps teachers introduce standards-based inquiry and constructivist lessons into their classrooms. Some of the book's classroom-tested lessons are inquiry modifications of traditional "cookbook" labs that biology teachers will recognize. Biology Inquiries provides a pool of active learning lessons to choose from with valuable tips on how to implement them.
Cannot be combined with any other offers.
Original Price:$67.90
Purchased together:$50.93
save $16.97
Table of contents
Preface.
About the Author.
1. Introduction.
What Is Standards-Based Teaching?
Inquiry.
Constructivism.
Resources for Educators.
2. Science as Inquiry.
The Inquiry Cubes.
She Turned Me into a Newt (I Got Better).
Storytelling Graphing.
Crossed Knives: A Pattern Game.
The Distraction Stick: Another Pattern Game.
Case Study Study.
Investigating Plant Growth.
Scientific Inquiry Assessment.
Biology Portfolio.
3. The Cell.
What Is Life? Part 1: Glue Goblins.
What Is Life? Part 2: Investigations.
What Is Life? Part 3: The Andromeda Strain.
Potato Bubbles: An Introduction to Enzymes.
Floating Filter Paper Chips: An Exploration of Enzyme Activity.
Breakfast Is Ready: Bacon Diffusion.
Investigating Osmosis in Plant Cells.
The Osmosis Inquiry Egg.
Mitosis Sequencing.
4. The Molecular Basis of Heredity.
Mendel's Data.
Multifactorial Inheritance.
Nature and Nurture.
Chargaff's DNA Data.
Classifying Oaks with DNA.
5. Biological Evolution.
Explaining Evolution.
The Lost World.
Are Humans Still Evolving?
Dissecting Frog Evolution.
6. The Interdependence of Organisms.
History of a Carbon Atom: Part 1.
History of a Carbon Atom: Part 2.
Life or Death Food Chain Decision.
Investigating Forest Succession.
7. Matter, Energy, and Organization in Living Systems.
Water Discrepancies.
Why Are Plants Green?
Why Are Plants Not Always Green?
Autotroph Inquiries: Comings and Goings.
Autotroph Inquiries: Do Plants Respire?
Autotroph Inquiries: Building Organic Molecules.
Cold-Blooded Thermometers.
Energy Storage Molecules and Natural Selection.
8. The Behavior of Organisms.
Termite Trails Mystery.
Red Dot Special.
The Mozart Effect: Investigating Music and Memory.
The Mozart Effect: Are You Buying It?
9. Science in Personal and Social Perspectives.
Putting SPF to the Test.
Watershed Investigations.
Consider the Issues.
Debating Biological/Societal Topics.
Features
Must-have companion for science inquiry teaching methods

Innovative, clasroom-tested design

Ideal for high school grade biology and life sciences courses