Biology and Management of Rice Insects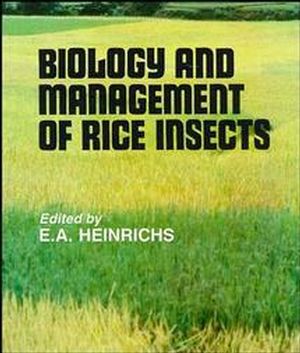 Biology and Management of Rice Insects
ISBN: 978-0-470-21814-3
Jan 1995
794 pages
Description
This book fills the need for a comprehensive treatment of rice entomology under one cover. The contributors to this book, drawn from various related disciplines, discuss the fundamentals of rice entomology, the biology and ecology of rice insects and the various techniques of rice insect control , namely, host plant resistance, cultural, mechanical and physical controls, predators and parasitoids, pathogens and insecticides.
FUNDAMENTALS.

Rice (E. Heinrichs).

Taxonomy of Rice Insect Pests and Their Arthropod Parasites and Predators (A. Barrion & J. Litsinger).

BIOLOGY AND ECOLOGY.

Insect Pests of the Rice Plant--Their Biology and Ecology (D. Dale).

Rice Pests and Agricultural Environments (M. Loevinsohn).

CONTROL TACTICS AND STRATEGIES.

Host Plant Resistance (E. Heinrichs).

Cultural, Mechanical, and Physical Control of Rice Insects (J. Litsinger).

Predators and Parasitoids of Rice Insect Pests (P. Ooi & B. Shepard).

Pathogens of Rice Insects (M. Rombach, et al.).

Insecticide Management in Rice (S. Chelliah & M. Bharathi).

Integration of Rice Insect Control Strategies and Tactics (C. Smith).

The Brown Planthopper: Promises, Problems, and Prospects (M. Rombach & K. Gallagher).

IMPLEMENTATION OF RICE IPM SYSTEMS.

Development and Implementation of Rice IPM in Japan (K. Kiritani & K. Naba).

Development of an Integrated Pest Management System for Rice in Latin America (G. Weber & O. Parada).

Indexes.