Biomarkers in Brain Disease, Volume 1180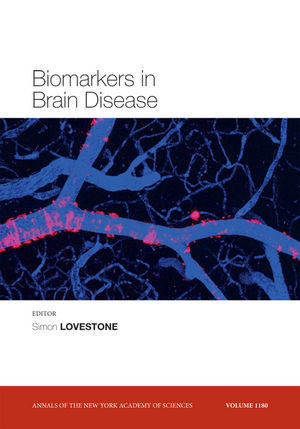 Biomarkers in Brain Disease, Volume 1180
ISBN: 978-1-573-31772-6
Dec 2009, Wiley-Blackwell
276 pages
Description
Advances in biomarker development are revolutionizing the way we study, diagnose and treat disease. However, progress in the development and use of biomarkers for diseases of the central nervous system has been limited by a number of difficulties -- including the inherent barriers associated with studying the brain. Development of reliable biomarkers for brain disorders would dramatically accelerate research on the etiology, pathophysiology, disease progression, and therapeutic development of many very prevalent and devastating diseases including Alzheimer's disease, Parkinson's disease, multiple sclerosis, and others. International experts in the field have contributed chapters to this volume that discuss the latest advances in biomarker technologies and biomarker development for brain disorders, as well as the logistical, regulatory and funding challenges experienced by scientists working on clinical trials for biomarkers

NOTE: Annals volumes are available for sale as individual books or as a journal. For information on institutional journal subscriptions, please visit www.blackwellpublishing.com/nyas.

ACADEMY MEMBERS: Please contact the New York Academy of Sciences directly to place your order (www.nyas.org). Members of the New York Academy of Science receive full-text access to the Annals online and discounts on print volumes. Please visit http://www.nyas.org/MemberCenter/Join.aspx for more information about becoming a member.
Preface.
1. The Uses of Biomarkers in Drug Development (Orest Hurko).
2. Biomarkers, Dementia, and Public Health (C.F. Wright, A. Hall A, F.E. Matthews, and C. Brayne).
3. Imaging Biomarkers in Alzheimer's Disease (Natalie Ryan and Nick C. Fox).
4. CSF Biomarkers: Pin-pointing Alzheimer pathogenesis (Niklas Mattsson, Kaj Blennow, and Henrik Zetterberg).
5. AddNeuroMed: The European Collaboration for the Discovery of Novel Biomarkers for Alzheimer's Disease (Simon Lovestone, Paul Francis, Iwona Kloszewska, Patrizia Mecocci, Andrew Simmons, Hilkka Soininen, Christian Spenger, Magda Tsolaki, Bruno Vellas, Lars-Olof Wahlund, Malcolm Ward, on behalf of the AddNeuroMed consortium).
6. MRI Measures of Alzheimer's Disease and the AddNeuroMed Study (Andrew Simmons, Eric Westman, Sebastian Muehlboeck, Patrizia Mecocci, Bruno Vellas, Magda Tsolaki, Iwona Kloszewska, Lars-Olof Wahlund, Hilkka Soininen, Simon Lovestone, Alan Evans, Christian Spenger, for the AddNeuroMed consortium).
7. Identifying Early Markers of Alzheimer's disease using Quantitative Multiplex Proteomic Immunoassay Panels (Holly D. Soares, Yu Chen, Marwin Sabbagh, Alex Rohrer, Elisabeth Schrijvers, and Monique Breteler).
8. Proteomics for Brain Disorders: The Promise for Biomarkers (Malcolm Ward, Andreas Güntert, James Campbell, and Ian Pi).
9. Use of Genetic Variation as Biomarkers for Alzheimer's disease (Christiane Reitz and Richard Mayeux).
10. Biomarkers in Huntington's and Parkinson's Disease (Gráinne C. O'Keeffe, Andrew W. Michell, Roger A. Barker).
11. Biomarkers in Oncology (Trials and Tribulations: Sheila E. Taube).
12. Biomarkers in Alzheimer's Disease: Not Yet Surrogate Endpoints (N. Coley, S. Andrieu, J. Delrieu, T. Voisin, and B. Vellas).
"In 12 studies from a January 2009 conference in Oxford, England, researchers from academia and drug companies review recent results of biomarker research and applications to brain disorders. The use of biomarkers with brain diseases is challenged by the blood-brain barrier and by the brain being protected within the skull. Among the topics are biomarkers, dementia, and public health; imaging biomarkers in Alzheimer's disease; identifying several markers of Alzheimer's disease using quantitative multiplex proteomic immunoassay panels; biomarkers in Huntington's and Parkinson's diseases; and trials and tribulation of biomarkers in oncology. No index is provided." (Book News Inc., February 2011)