Biomaterials Surface Science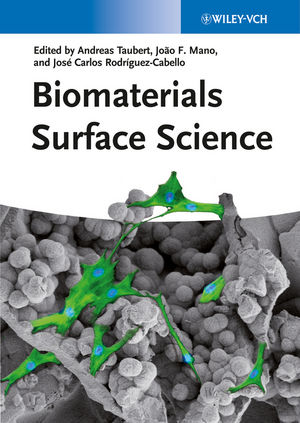 Biomaterials Surface Science
ISBN: 978-3-527-64962-4 July 2013 616 Pages
Description
At the interface of biology, chemistry, and materials science, this book provides an overview of this vibrant research field, treating the seemingly distinct disciplines in a unified way by adopting the common viewpoint of surface science.
The editors, themselves prolific researchers, have assembled here a team of top-notch international scientists who read like a "who's who" of biomaterials science and engineering. They cover topics ranging from micro- and nanostructuring for imparting functionality in a top-down manner to the bottom-up fabrication of gradient surfaces by self-assembly, from interfaces between biomaterials and living matter to smart, stimuli-responsive surfaces, and from cell and surface mechanics to the elucidation of cell-chip interactions in biomedical devices. As a result, the book explains the complex interplay of cell behavior and the physics and materials science of artificial devices.
Of equal interest to young, ambitious scientists as well as to experienced researchers.
PART I: Polymer Surfaces

POLYMERS FOR SURFACE STRUCTURING
Introduction
Structuring and Modification of Interfaces by Self-Assembling Proteins
Structuring and Modification of Solid Surfaces via Printing of Biomolecules
Conclusion and Outlook

SURFACE-GRAFTED POLYMER BRUSHES
Introduction
Synthesis of Polymer Brushes
Stimuli-Responsive Polymer Brushes
Polyelectrolyte Brushes
Bio-Functionalized Polymer Brushes

INHIBITING NONSPECIFIC PROTEIN ADSORPTION: MECHANISMS, METHODS, AND MATERIALS
Introduction
Fundamental Forces Leading to Nonspecific Protein Adsorption
Poly(Ethylene Glycol)
Surface Force Apparatus (SFA)
Applications of Poly(Ethylene Glycol)
Summary

STIMULI-RESPONSIVE SURFACES FOR BIOMEDICAL APPLICATIONS
Introduction
Surface Modification Methodologies: How to Render Substrates with Stimuli Responsiveness
Exploitable Stimuli and Model Smart Biomaterials
Biomedical Applications of Smart Surfaces
Conclusions

SURFACE MODIFICATION OF POLYMERIC BIOMATERIALS
Introduction
Effect of Material Surfaces on Interactions with Biological Entities
Surface Morphology of Polymeric Biomaterials
Surface Modifications to Improve Biocompatibility of Biomaterials
Surface Modifications to Improve Hemocompatibility of Biomaterials
Surface Modifications to Improve Antibacterial Properties of Biomaterials
Nanoparticles

POLYMER VESICLES ON SURFACES
Introduction
Polymer Vesicles
Applications of Polymer Membranes and Vesicles as Smart and Active Surfaces
Current Limitations of Polymer Vesicles and Emerging Trends
Conclusions

PART II: Hydrogel Surfaces

PROTEIN-ENGINEERED HYDROGELS
Introduction to Protein Engineering for Materials Design
History and Development of Protein-Engineered Materials
Modular Design and Recombinant Synthesis Strategy
Processing Protein-Engineered Materials
Conclusion

BIOACTIVE AND SMART HYDROGEL SURFACES
Introduction
Mimicking the Extracellular Matrix
Hydrogels: Why Are They So Special?
Elastin-Like Recombinamers as Bioinspired Proteins
Perspectives

BIORESPONSIVE SURFACES AND STEM CELL NICHES
General Introduction
Stem Cell Niches
Surfaces as Stem Cell Niches
Conclusions

PART III: Hybrid & Inorganic Surfaces

MICRO- AND NANOPATTERNING OF BIOMATERIAL SURFACES
Introduction
Photolithography
Electron Beam Lithography
Focused Ion Beam
Soft Lithography
Dip-Pen Nanolithography
Nanoimprint Lithography
Sandblasting and Acid Etching
Laser-Induced Surface Patterning
Colloidal Lithography
Conclusions and Perspectives

ORGANIC/INORGANIC HYBRID SURFACES
Introduction
Calcium Carbonate Surfaces and Interfaces
Calcium Phosphate Surfaces and Interfaces
Silica Surfaces and Interfaces
Conclusion and Outlook

BIOACTIVE CERAMIC AND METALLIC SURFACES FOR BONE ENGINEERING
Introduction
Ceramics for Bone Replacement and Regeneration
Metallic Surfaces for Bone Replacement and Regeneration
Conclusions

PLASMA-ASSISTED SURFACE TREATMENTS AND MODIFICATIONS FOR BIOMEDICAL APPLICATIONS
Introduction
Surface Requisites for Biomedical Applications
Surface Functionalization of Inorganic Surfaces by Plasma Techniques
Applications of Plasma-Modified Surfaces in Biology and Biomedicine
Conclusions and Outlook

BIOLOGICAL AND BIOINSPIRED MICRO- AND NANOSTRUCTURED DRY ADHESIVES
Introduction: Adhesion in Biological Systems
Fibrillar Contact Elements
Basic Physical Forces Contributing to Adhesion
Contact Mechanics
Larger Animals Rely on Finer Fibers
Peeling Theory
Artificial Adhesive Systems
Toward Smart Adhesives

PART IV: Cell -
Surface Interactions

GENERIC METHODS OF SURFACE MODIFICATION TO CONTROL ADHESION OF CELLS AND BEYOND
General Introduction
Survey on Generic Methods to Modify Material Surfaces
Results and Discussion
Summary and Conclusions

SEVERE DEFORMATIONS OF MALIGNANT BONE AND SKIN CELLS, AS WELL AS AGED CELLS, ON MICROPATTERNED SURFACES
Introduction
Experimental Methods
The Interaction of Bone Cells with Micropillars
The Deformation of Skin Cells as a Function of Their Malignancy
The Deformation of Fibroblasts of Different Cellular Ages
Discussion
Conclusions

THERMORESPONSIVE CELL CULTURE SURFACES DESIGNED FOR CELL-SHEET-BASED TISSUE ENGINEERING AND REGENERATIVE MEDICINE
Introduction
Characteristics of PIPAAm-Grafted Cell Culture Surfaces
Mechanisms of Cell Detachment from the Thermoresponsive Cell Culture Dish
Cell-Sheet-Based Tissue Engineering and Its Clinical Applications
Next-Generation Thermoresponsive Cell Culture Dishes
Conclusions

CELL MECHANICS ON SURFACES
Introduction
What is Elasticity and Stiffness?
Measuring and Quantifying Stiffness
Controlling Substrate Stiffness
Naturally Derived Scaffolds
Synthetic Scaffolds
Substrate Stiffness - Impact on Cell Behavior
When Stiffness In vivo Goes Awry: the Impact of Fibrosis on Function
Novel Surface Fabrication Techniques to Improve Biomimicry
Conclusion

ELECTRODE -
NEURAL TISSUE INTERACTIONS: IMMUNE RESPONSES, CURRENT
TECHNOLOGIES, AND FUTURE DIRECTIONS
Introduction
Immune Response to Neural Implants
Past and Current Neural Interfaces
Methods for Improvement of the Electrode -
Tissue Interface
Conclusions and Future Directions

INDEX