Biomechanics in Sport: Performance Enhancement and Injury Prevention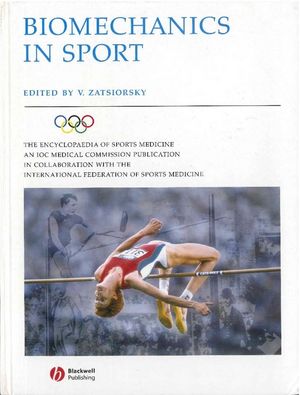 Biomechanics in Sport: Performance Enhancement and Injury Prevention
ISBN: 978-0-470-69304-9
Apr 2008, Wiley-Blackwell
680 pages
Description
Biomechanics in Sport is a unique reference text prepared by the leading world experts in sport biomechanics. Over thirty chapters cover a broad spectrum of topics, ranging from muscle mechanics to injury prevention, and from aerial movement to wheelchair sport. The biomechanics of sports including running, skating, skiing, swimming, jumping in athletics, figure skating, ski jumping, diving, javelin and hammer throwing, shot putting, and striking movements are all explained.
MUSCLE ACTION IN SPORT AND EXERCISE.
1 Muscle action in high force contractions.
2 Functional properties and performance in skeletal muscles.
3 Muscle-tendon architecture and athletic performance.
4 Eccentric muscle action in sport and exercise.
5 Stretch-shortening cycle.
6 Biomechanical foundations of strength and power training.
.
LOCOMOTION.
7 Factors affecting preferred rates of movement in cyclic activities.
.
8 The dynamics of running.
.
9 Lower extremity function during cycling.
.
10 Competitive skill: technique, equipment and environmental factors affecting performance.
11 Technique and power production in speed skating.
12 Hydrodynamic resistance and propelling forces in swimming.
.
13 Mechanical power and propelling efficiency in competitive swimming.
.
JUMPING AND AERIAL MOVEMENT.
.
14 Aerial movement.
15 The high jump.
16 Ski jumping.
.
17 Jumping in figure skating.
.
18 Springboard and platform diving.
.
THROWING.
19 Throwing: basic principles.
.
20 Flight of projectiles in sport.
.
21 Hammer throwing: problems and prospects.
.
22 Shot putting.
.
23 Javelin throwing: an approach toward performance improvement.
.
INJURY PREVENTION AND REHABILITATION.
.
24 Mechanisms of musculoskeletal injury.
25 Musculoskeletal loading during landing.
26 Impact propagation and its effects on the human body.
.
27 Sport related spine injuries and their prevention.
28 Eccentric contraction: applied physiology and mechanics of muscle injury and rehabilitation.
SPECIAL OLYMPIC SPORTS.
.
29 Manual wheelchair propulsion.
.
30 Sport for amputees
The text comprises six sections:
* Muscle action
* Locomotion
* Jumping and aerial movement
* Throwing and striking
* Injury prevention and rehabilitation
* Special Olympic sports