Biomedical Science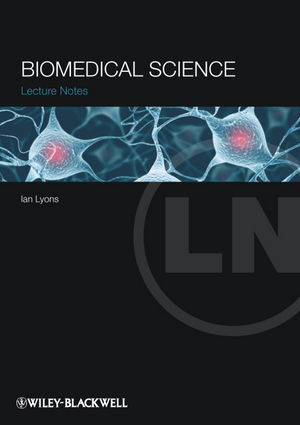 Biomedical Science
ISBN: 978-1-118-29471-0
Nov 2011, Wiley-Blackwell
560 pages
Description
This brand new Lecture Notes title provides the core biomedical science study and revision material that medical students need to know. Matching the common systems-based approach taken by the majority of medical schools, it provides concise, student-led content that is rooted in clinical relevance. The book is filled with learning features such as key definitions and key conditions, and is cross-referenced to develop interdisciplinary awareness. Although designed predominantly for medical students, this new Lecture Notes book is also useful for students of dentistry, pharmacology and nursing.

Biomedical Science Lecture Notes provides:
A brand new title in the award-winning Lecture Notes series
A concise, full colour study and revision guide
A 'one-stop-shop' for the biomedical sciences
Clinical relevance and cross referencing to develop interdisciplinary skills
Learning features such as key definitions to aid understanding
Preface.
Acknowledgements.
Abbreviations.
1 Cell biology.
2 Molecular biology and genetics.
3 Biochemistry.
4 Physiology.
5 Pharmacology.
6 Cardiovascular system.
7 Respiratory system.
8 Gastrointestinal system.
9 Urinary system.
10 Endocrinology.
11 Integrative physiology.
12 Reproduction.
13 Embryology.
14 Anatomy/musculoskeletal system.
15 Immunology.
16 Microbiology.
17 Neuroscience.
18 Medical statistics.
Index.
"Each chapter moves concisely through the appropriate science, highlighting its relevance to clinical practice. The information is well presented and easy to navigate." (Oxford Medical School Gazette, 2011)
"This new book in the Lecture Notes series covers most of the important areas in biomedical sciences relevant to any doctor of tomorrow. It is a condensation of the essentials of the Oxford undergraduate pre-clinical medical course. Chapters on the broader areas of the curriculum such as 'Cell biology', 'Molecular biology' and 'Anatomy' are followed by chapters that take more of a systems approach e.g. 'Cardiovascular', 'Respiratory' and 'Gastrointestinal' etc. The necessary chapters on 'Immunology', 'Microbiology' and even 'Statistics', are also included.
Style
The aim of the author is to provide: 'A resource of the essential facts, without too much additional detail'. The classic Lecture Notes format of short prose and bullet points alongside simple diagrams is used. This is achieved well with the addition of useful 'Definition' and 'Clinical' significance boxes throughout the text which are helpfully colour coded. There is no bulky text and subheadings clearly and logically breakup the information making is easy to digest. Diagrams are simple, colourful and informative. Most chapters come in at a very readable 20 pages long. 
The Good - This book provides the essential facts in most of the topics that medical students and future doctors will be expected to be well versed in. Each chapter moves concisely through the appropriate science, highlighting its relevance to clinical practice. The information is well presented and easy to navigate. Diagrams have been intentionally kept simple whilst retaining the most important information as to make them easily reproducible in the exam situation. The diagrams in the anatomy sections of the book are of particular merit, managing to be both simple yet information rich. The addition of a chapter on statistics is a nice and highly appropriate addition to this, and indeed any, medical sciences text.   
The Bad - Although very readable, in my opinion, this book is found a little wanting on content. When compared to texts of a similar ilk such as the Oxford Handbook of Medical Sciences, which also has the advantage of being more compact, this becomes apparent. Common to other texts in the Lecture Notes series, the style can be somewhat uninspiring in places. Although aiming at essential facts I think this book would benefit from slightly more detail in some areas, more as a facilitator in the understanding of the basics, even if it is not retained by the reader.
Personal Recommendation - This book follows in the footsteps of others that attempt to condense the medical undergraduate course into a single book – something that it achieves well given its primary aim of providing a text of essential facts. If you are a clinical student looking to touch up on only the undergraduate essentials in a particular area then this is the book for you. On the other hand if you aspire to more than just the basics then investing in a larger combined physiology and anatomy text may be required for the broader picture to be seen.
Rating: 8/10
by Nicholas Sunderland, 5th Year Medical Student, Oxford University Medical School Gazette
A breakthrough text for medical students - biomedical sciences distilled in a concise systems-based approach


Provides the clinical relevance of biomedical science

Extensive cross referencing

Written by students for students, and reviewed by students in all UK medical schools