Biomolecular Archaeology: An Introduction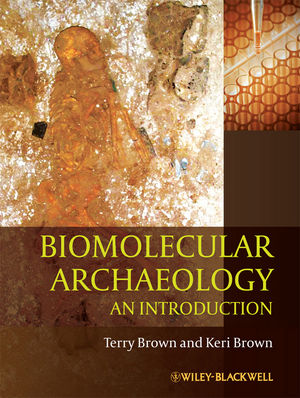 Biomolecular Archaeology: An Introduction
ISBN: 978-1-444-39244-9 April 2011 Wiley-Blackwell 336 Pages
Description
Illustrated thoroughly, Biomolecular Archaeology is the first book to clearly guide students through the study of ancient DNA: how to analyze biomolecular evidence (DNA, proteins, lipids and carbohydrates) to address important archaeological questions.
The first book to address the scope and methods of this new cross-disciplinary area of research for archaeologists
Offers a completely up-to-date overview of the latest research in this innovative subject
Guides students who wish to become biomolecular archaeologists through the complexities of both the scientific methods and archaeological goals.
Provides an essential component to undergraduate and graduate archaeological research
List of Figures.
List of Tables.
Preface.
Part I: Biomolecules and How They Are Studied.
Chapter 1 What is Biomolecular Archaeology?
Chapter 2 DNA.
Chapter 3 Proteins.
Chapter 4 Lipids.
Chapter 5 Carbohydrates.
Chapter 6 Stable Isotopes.
Part II: Preservation and Decay of Biomolecules in Archaeological Specimens.
Chapter 7 Sources of Ancient Biomolecules.
Chapter 8 Degradation of Ancient Biomolecules.
Chapter 9 The Technical Challenges of Biomolecular Archaeology.
Part III: The Applications of Biomolecular Archaeology.
Chapter 10 Identifying the Sex of Human Remains.
Chapter 11 Identifying the Kinship Relationships of Human Remains.
Chapter 12 Studying the Diets of Past People.
Chapter 13 Studying the Origins and Spread of Agriculture.
Chapter 14 Studying Prehistoric Technology.
Chapter 15 Studying Disease in the Past.
Chapter 16 Studying the Origins and Migrations of Early Modern Humans.
Glossary.
Index.
The only text to cover the entire field of biomolecular archaeology
Offers a completely up-to-date overview of the latest research in this innovative subject
Weaves together the study of modern humans, animals and plants, with the archaeological information obtained by evolutionary biology approaches.
Explores the study of preserved, or 'ancient' biomolecules recovered from archaeological materials