Biopolymers, Biology, Chemistry, Biotechnology, Applications, Volume 10, General Aspects and Special Applications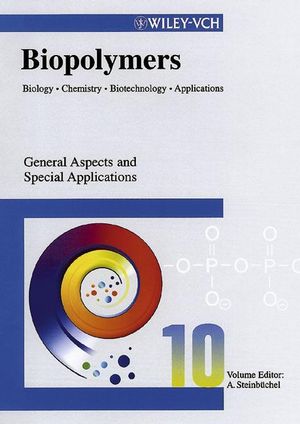 Biopolymers, Biology, Chemistry, Biotechnology, Applications, Volume 10, General Aspects and Special Applications
ISBN: 978-3-527-30229-1 April 2003 Wiley-Blackwell 526 Pages
Description
The final volume of this encyclopedia addresses such general aspects as methods for the analysis of polymer properties and technical processing. It also provides an overview of special applications in:
* electronics
* aerospace
* medicine and pharmacy
* food
* packaging
* construction
* engineering.
Further topics included are: biotechnological production of monomers for chemical polymer synthesis, conversion of raw materials, corrosion, composting, environmental impacts, health issues, legal, ecological and economic aspects.

Buy Both and Save 25%!
This item: Biopolymers, Biology, Chemistry, Biotechnology, Applications, Volume 10, General Aspects and Special Applications
Biopolymers, Biology, Chemistry, Biotechnology, Applications, Volume 9, Miscellaneous Biopolymers and Biodegradation of Synthetic Polymers (Hardcover $493.00)
Cannot be combined with any other offers.
Original Price:$1,053.00
Purchased together:$789.75
save $263.25
Table of contents
Applications of Natural Fiber Composites for Constructive Parts in Aerospace, Automobiles, and Other Areas (U. Riedel & J. Nickel).
Applications of Biopolymers in Construction Engineering (J. Plank).
Microbial Deterioration of Synthetic and Biological Polymers Used in Engineering and Construction (J. Gu).
Applications of Polyphosphate and other Biopolymers in Wastewater Treatment (A. Kuroda & H. Ohtake).
Mater-Bi: Biodegradable Material for Various Applications (C. Bastioli).
Chemical Modification of Synthetic and Biosynthetic Polyesters (B. Hazer).
Biofilms (H. Flemming & J. Wingender).
Health Issues of Biopolymers: Polyhydroxybutyrate (T. Freier, et al.).
Biotechnological Processes for the Production of Monomers for Subsequent Chemical Polymer Synthesis (S. Lee, et al.).
Economic Aspects of Biopolymer Production (S. Lee, et al.).
Sustainability, Agro-resources and Technology in the Polymer Industry (S. Vellema, et al.).
Biodegradability of Polymers: Regulations and Methods for Testing (R. M 2;ller).
Evaluation and Certification of Compostable Polymeric Materials and Products (M. van der Zee).
Life-cycle Assessment of Bio-based Polymers and Natural Fiber Composites (M. Patel, et al.).
Biodegradable Plastics in the Social and Political Environment (I. Sartorius).
Evaluating the Environmental Impact of Biopolymers (S. Slater, et al.).
Index.