Biopolymers, Biology, Chemistry, Biotechnology, Applications, Volume 7, Polyamides and Complex Proteinaceous Materials I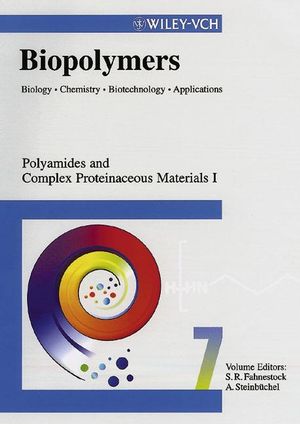 Biopolymers, Biology, Chemistry, Biotechnology, Applications, Volume 7, Polyamides and Complex Proteinaceous Materials I
ISBN: 978-3-527-30222-2
Feb 2003, Wiley-Blackwell
527 pages
Description
Volumes 7 and 8 focus on polyamides and complex proteinaceous materials synthesized by bacteria and eukaryotic organisms, describing all aspects of their biosynthesis and metabolism as well as the production and isolation. Topics included are: poly(g-d-glutamate), cyanophycin, modifications of proteins, sweet-tasting proteins, motor proteins, enzymes for technical applications, self-assembling proteins, cell membranes, feathers, elastic proteins, silk proteins, adhesive proteins, protein composites, wool, collagens and gelatines.
Ribosomal Protein Synthesis (W. Wintermeyer & M. Rodnina).
Proteins Containing Nonnatural Amino Acids (M. Sisido).
Non-ribosomal Biosynthesis of Linear and Cyclic Oligopeptides (H. von Döhren).
Cyanophycin (F. Oppermann-Sanio & A. Steinbüchel).
ε-Poly-l-Lysine (T. Yoshida, et al.).
Poly-γ-glutamic Acid (M. Ashiuchi & H. Misono).
Polyaspartic Acids (W. Joentgen, et al.).
Cell Membranes: Protein Components and Functions (W. Wimley).
Bacterial Protein Secretion and Targeting (A. Driessen, et al.).
Self-assembling Symmetric Protein Materials (J. Padilla & T. Yu).
Self-assembly Protein Systems: Microbial S-layers (U. Sleytr, et al.).
Cytoskeletons in Eukaryotes and Prokaryotes (F. Mayer).
Enzymes for Technical Applications (T. Schäfer, et al.).
Proteasomes: Molecular Machines for Protein Degradation (S. Witt & W. Baumeister).
Modifications of Proteins and Poly(amino acids) by Enzymatic and Chemical Methods (K. Ohkawa & H. Yamamoto).
Index.