Biopolymers, Biology, Chemistry, Biotechnology, Applications, Volume 8, Polyamides and Complex Proteinaceous Materials II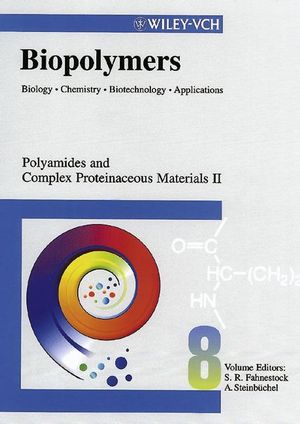 Biopolymers, Biology, Chemistry, Biotechnology, Applications, Volume 8, Polyamides and Complex Proteinaceous Materials II
ISBN: 978-3-527-30223-9 March 2003 Wiley-Blackwell 529 Pages
Description
Volumes 7 and 8 focus on polyamides and complex proteinaceous materials synthesized by bacteria and eukaryotic organisms, describing all aspects of their biosynthesis and metabolism as well as the production and isolation. Topics included are: poly(g-d-glutamate), cyanophycin, modifications of proteins, sweet-tasting proteins, motor proteins, enzymes for technical applications, self-assembling proteins, cell membranes, feathers, elastic proteins, silk proteins, adhesive proteins, protein composites, wool, collagens and gelatines.
Silk Fibroin Proteins: Structure, Function, and Evolution (R. Lewis).
Biology and Technology of Silk Production (F. Vollrath & D. Knight).
Fibrous Proteins from Recombinant Microorganisms (S. Fahnestock).
Spider Silk Proteins from Transgenic Plants (J. Scheller & U. Conrad).
High-toughness Spider Silk Fibers Spun from Soluble Recombinant Silk Produced in Mammalian Cells (C. Karatzas, et al.).
Collagens and Gelatins (B. Brodsky, et al.).
Wool from Animal Sources (H. Zahn, et al.).
Sweet-tasting Proteins (I. Faus & H. Sisniega).
Structure, Function, and Evolution of Vicilin Legumin Seed Storage Proteins (J. Dunwell).
Heavy Metal-binding Proteins and Peptides (S. Clémens, et al.).
Biomineralizing Proteins with Emphasis on Invertebrate-mineralized Structures (L. Treccani, et al.).
Protein Composites: Biominerals (A. Veis).
Extra-Organismic Adhesive Proteins (J. Lucas, et al.).
Adhesives, Coatings, and Bioplastics from Protein Sources (C. Vaz, et al.).
Self-assembling Protein Cage Systems and Applications in Nanotechnology (T. Douglas, et al.).
The Crystallization Proteins, Nucleic Acids, and Viruses for X-ray Diffraction Analysis (A. McPherson, et al.).
Role of Nucleic Acid and Protein Manipulation Technologies in High-throughput Structural Biology Efforts (D. Aceti, et al.).
Index.
"This encyclopedia provides a throughout overview of the occurrence and metabolism of biopolymers."
Datenbank DKILit