Bioremediation of Petroleum and Petroleum Products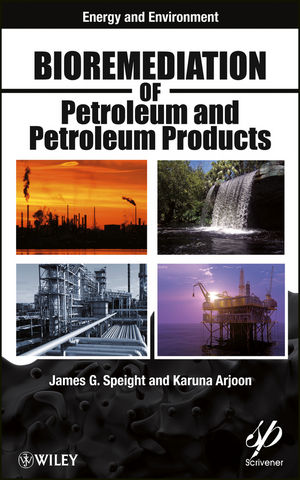 Bioremediation of Petroleum and Petroleum Products
ISBN: 978-0-470-93849-2 October 2012 592 Pages
Description
With petroleum-related spills, explosions, and health issues in the headlines almost every day, the issue of remediation of petroleum and petroleum products is taking on increasing importance, for the survival of our environment, our planet, and our future.  This book is the first of its kind to explore this difficult issue from an engineering and scientific point of view and offer solutions and reasonable courses of action.
Buy Both and Save 25%!
Original Price:$662.00
Purchased together:$496.50
save $165.50
Cannot be combined with any other offers.
Preface xv
1. Introduction to Bioremediation 1
1. Introduction 1
2. Principles of Bioremediation 7
3. Bioremediation and Biodegradation 10
4. Mechanism of Biodegradation 15
5. Bioremediation Methods 22
6. Test Methods for Biodegradation 30
7. References 31
2. Petroleum Composition and Properties 39
1. Introduction 39
2. Composition 46
3. Properties 62
4. References 76
3. Refinery Products and By-Products 79
1. Introduction 79
2. Refinery Products 81
3. Refinery Chemicals 106
4. References 113
4. Composition and Properties of Gaseous Products 115
1. Introduction 115
2. Gaseous Products 118
3. Environmental Effects 129
4. Analysis 134
5. References 143
5. Composition and Properties of Liquid Products 147
1. Introduction 147
2. Naphtha 148
3. Fuel Oil 162
4. Wastewaters 177
5. References 180
6. Composition and Properties of Solid Products 183
1. Introduction 183
2. Residua and Asphalt 184
3. Coke 199
4. Sludge 208
5. References 210
7. Sample Collection and Preparation 213
1. Introduction 213
2. Petroleum Chemicals 215
3. Sample Collection and Preparation 218
4. Measurement 240
5. Accuracy 242
6. Precision 243
7. Method Validation 245
8. Quality Control and Quality Assurance 252
9. Method Detection Limit 256
10. References 256
8. Analytical Methods 259
1. Introduction 259
2. Chemical And Physical Properties 262
3. Petroleum Group Analyses 279
4. Other Analytical Methods 289
5. References 298
9. Biodegradation of Petroleum 305
1. Introduction 305
2. Biodegradation of Specific Constituents 307
3. Petroleum Biodegradation 319
4. Application to Spills 333
5. References 339
10. Biodegradation of Naphtha and Gasoline 361
1. Introduction 361
2. Identity and Origin 361
3. Remediation 363
4. BTEX and MTBE 377
5. References 382
11. Biodegradation of Kerosene and Diesel 385
1. Introduction 385
2. Identity and Origin of Kerosene and Diesel 385
3. Bioremediation 389
4. Jet Fuel 402
5. References 404
12. Biodegradation of Fuel Oil 413
1. Introduction 413
2. Identity and Origin of Fuel Oil 416
3. Biodegradation 421
4. References 427
13. Biodegradation of Lubricating Oil 431
1. Introduction 431
2. Identity and Origin of Lubricating Oil 434
3. Composition and Properties of Lubricating Oil 436
4. Biodegradation of Lubricating Oils 440
5. Bioremediation – The Challenge 452
6. Conclusion 453
7. References 453
14. Biodegradation of Residua and Asphalt 463
1. Introduction 463
2. Identity and Origin of Residua and Asphalt 467
3. Biodegradation of Residua and Asphalt 469
4. References 477
15. Bioremediation Methods 483
1. Land Ecosystems 486
2. Water Ecosystems 498
3. References 507
16. The Future of Bioremediation 515
1. Introduction 515
2. Status 517
3. Advantages and Disadvantages 524
4. Conclusion 526
5. References 528
Glossary 535
Conversion Factors 555
Index 559