Biostatistics in Clinical Trials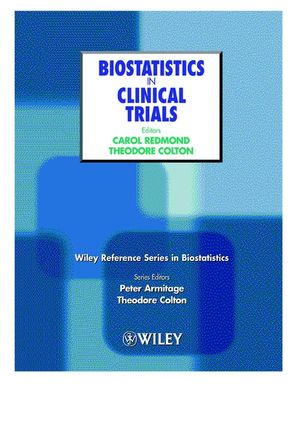 Biostatistics in Clinical Trials
ISBN: 978-0-471-82211-0
Apr 2001
522 pages
Description
The second volume in the Wiley reference series in Biostatistics.
Featuring articles from the prestigious Encyclopedia of Biostatistics, many of which have been fully revised and updated to include recent developments, Biostatistics in Clinical Trials also includes up to 25% newly commissioned material reflecting the latest thinking in:
Bayesian methods
Benefit/risk assessment
Cost-effectiveness
Ethics
Fraud
With exceptional contributions from leading experts in academia, government and industry, Biostatistics in Clinical Trials has been designed to complement existing texts by providing extensive, up-to-date coverage and introducing the reader to the research literature.
Offering comprehensive coverage of all aspects of clinical trials Biostatistics in Clinical Trials:
Includes concise definitions and introductions to numerous concepts found in current literature
Discusses the software and textbooks available
Uses extensive cross-references helping to facilitate further research and enabling the reader to locate definitions and related concepts
Biostatistics in Clinical Trials offers both academics and practitioners from various disciplines and settings, such as universities, the pharmaceutical industry and clinical research organisations, up-to-date information as well as references to assist professionals involved in the design and conduct of clinical trials.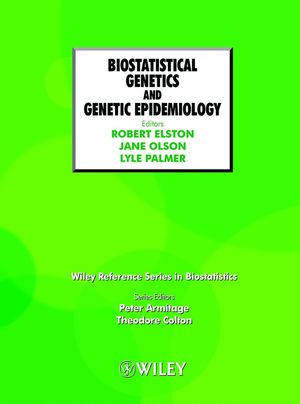 Original Price:$2,550.00
Purchased Together:$2,405.00
save $145.00
Adaptive and Dynamic Methods of Treatment Assignment.

Antibacterial Agent Trials.

Audit and Quality Control.

Bayesian Methods.

Benefit/Risk Assessment.

Binding or Masking.

Clinical Significance Versus Statistical Significance.

Clinical Trials, Overview.

Cluster Randomization.

Cochrane Collaboration.

Community Intervention Trials.

Compliance Assessment.

CONSORT.

Controlled Clinical Trials.

Cooperative Cancer Trials.

Cooperative Heart Disease Trials.

Cooperative Studies Program, US Department of Veterans Affairs.

Cost-effectiveness.

Covariate Imbalance, Adjustment for.

Crossover Designs.

Data and Safety Monitoring.

Data and Safety Monitoring Boards.

Data Management and Coordination.

Drug Approval and Regulation.

Drug Interactions.

Eligibility and Exclusion Criteria.

Equivalence Trials.

Ethics.

European Federation of Statisticians in the Pharmaceutical Industry (EFPSI).

European Organization for Research and Treatment of Cancer (EORTC).

Factorial Designs.

Fraud.

Group-randomization Designs.

Guidelines.

Historical Controls, Bias From.

History, Early Cancer and Heart Disease Trials.

History, Overview.

Intention-to-Treat Analysis.

International Studies of Infarct Survival (ISIS).

Medical Ethics and Statistics.

Medical Research Council (MRC) Streptomycin Trial.

Meta-analysis.

Missing Data.

Multicenter Trials.

Multiple Endpoints.

Multiplicity.

Noncompliance, Adjustment for.

Nonrandomized Trials.

NSABP and Advances in the Treatment of Breast Cancer.

Number Needed to Treat (NNT).

Outcome Measures.

Pharmaceutical Industry, Statistics in.

Phase I Trials.

Phase II Trials.

Physicians' Health Study.

Postmarketing Surveillance of New Drugs and Assessment of Risk.

Preclinical Treatment Evaluation.

Prevention Trials.

Protocols.

QUOROM.

Randomization.

Randomized Treatment Assignment.

Salk Vaccine.

Sample Size Determination.

Screening Trials.

Sequential Methods.

Society for Clinical Trials.

Software.

Statistical Review for Medical Journals.

Statistical Review for Medical Journals, Guidelines for Authors.

Statisticians in the Pharmaceutical Industry (PSI).

Surrogate Endpoints.

Textbooks.

Time-varying Treatment Effect.

Treatment--Covariate Interaction.

University Group Diabetes Program (UGDP).

Vaccine Studies.
"Every professional statistician should have this well written and well composed book in his/her collection." (
Journal of Statistical Computation and Simulation
, September 2005)
"...strongly recommended as a reference for an overview of biostatistics in clinical trials..." (Statistical Methods in Medical Research, Vol.12, No.4, 2003)
"highly informative and useful book" (Journal of Tropical Paediatrics, February 2002)
"This highly informative and readable book is part of the Wiley Reference Series in Biostatistics. This book will be a useful tool for generating the required evidence and is a handy reference for the design, conduct, analysis and interpretation of clinical trials." (Journal of Tropical Pediatricstrics)
"...a valuable reference and an excellent resource to add to classroom and other teaching tools..." (Oncology, Vol.63, No.1, 2002)