Biotechnology, A Multi-Volume Comprehensive Treatise, Volume 5A, Recombinant Proteins, Monoclonal Antibodies, and Therapeutic Genes, 2nd, Completely Revised Edition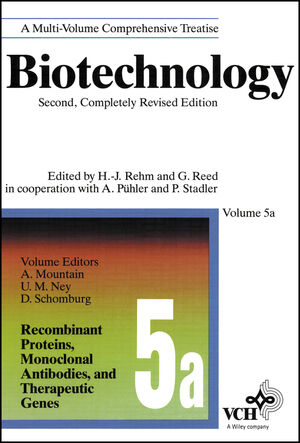 Biotechnology, A Multi-Volume Comprehensive Treatise, Volume 5A, Recombinant Proteins, Monoclonal Antibodies, and Therapeutic Genes, 2nd, Completely Revised Edition
ISBN: 978-3-527-62086-9
Mar 2008, Wiley-Blackwell
580 pages
Description
In the field of medicinal biotechnology three major developments have caused a revolution in research that has a lot of innovative effects on clinical medicine and future applications on humans. With the availability of tailored recombinant proteins and the opportunity to produce high amounts of monoclonal antibodies new diagnostic applications have emerged and many therapeutic perspectives, e.g. in the treatment of multiple sclerosis and of cancer, are being discussed today.
The aim of somatic gene therapy is to re-establish normal cell function by supplying the cells with the respective intact gene. This is a very difficult task and different diseases, e.g. AIDS and several metabolic disorders, are under investigation now. So far first promising approaches exist in cancer therapy.
Moreover the book informs about regulatory and economic aspects of these new methods and their applications.
STRUCTURE AND FUNCTION OF PROTEINS
Types and Functions of Proteins
Sequence and Structure of Proteins
Protein Interactions
RECOMBINANT PROTEINS
Methodology of Recombinant Protein Preparation
Large-Scale Production
Medical Applications in Humans and Animals
Diagnostic Applications
Other Applications -
Detergents, Use in Science Methodology
MONOCLONAL ANTIBODIES
Antibody Engineering and Expression
Large-Scale Production of Antibodies
Preclinical Testing of Antibodies: Pharmacology, Kinetics, and Immunogenicity
Preclinical Testing of Antibodies: Safety Aspects
Therapeutic Applications: Clinical Overview
CASE STUDIES
Antibodies for Sepsis: Some Lessons Learnt
Integrating Clinical and Economic Outcome -
Assessment into Biopharamceutical Development: A Case Study of Reopro
Engineered Human Antibody for Chronic Therapy: CDP571
Targeted Anti-Cancer Therapies
Antegren for Multiple Sclerosis
Imaging and Therapy with Radiolabeled Antibodies
Other Applications for Antibodies: Purification and Research Use
GENE THERAPY
Introduction to Gene Therapy
Viral Vector Approach
Use of Non-Viral Vectors
Issues for Large-Scale Production
Therapeutic Applications in Cancer
AIDS Therapy
Treatment of Metabolic and Inherited Disorders
REGULATORY AND ECONOMIC ASPECTS
Regulations for Proteins of Therapeutic and Diagnostic Use
Regulation of Gene Therapy
Economic Considerations