Biotechnology and Genetics in Fisheries and Aquaculture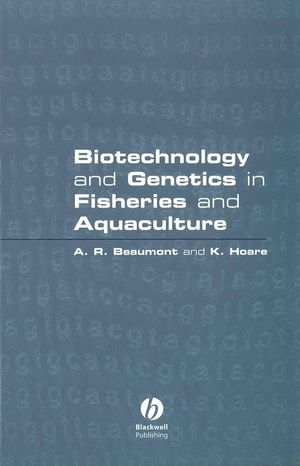 Biotechnology and Genetics in Fisheries and Aquaculture
ISBN: 978-0-470-99518-1 April 2008 Wiley-Blackwell 176 Pages
Description
The recent development of molecular biology and genetic techniques, in particular those that are increasingly being used in practical situations in fish biology, fisheries and aquaculture, has led to a gap in the understanding by many of the science behind these techniques and their correct implementation for maximum results.
The authors of this important book, Andy Beaumont and Kate Hoare, have written a text of great clarity, which carefully explains the science and application of molecular and genetic techniques to fisheries and aquaculture situations and what these new technologies have to offer. Contents include a full explanation of genetic variation and its measurement, genetic structure in natural populations, genetics and artificial selection in the hatchery, ploidy manipulation and the use of genetic engineering in aquaculture.

Biotechnology and Genetics in Fisheries and Aquaculture is of great use to biological sciences students, particularly those studying marine, freshwater and aquatic biology, fish biology, fisheries, aquaculture, population biology and genetics. The book is also extremely useful as a reference to personnel such as fish farmers and fisheries scientists and all those working in fisheries and aquaculture management and research. Libraries in all universities and research establishments where biological sciences, fisheries and aquaculture are studied and taught should have copies of this book on their shelves.
Table of contents
List of Boxes.
Preface.
1. What is Genetic Variation?.
2. How can Genetic Variation be Measured?.
3. Genetic Structure in Natural Populations.
4. Genetic Considerations in the Hatchery.
5. Artificial Selection in the Hatchery.
6. Triploids and Beyond: Why Manipulate Ploidy?.
7. Genetic Engineering in Aquaculture.
Glossary.
Index
Reviews
"Genetical studies of aquatic species for many decades lagged significantly behind those of terrestrial species. In recent years, much more research activity focusing on species in watery domains is evident and this applies both to natural and cultured populations. It is, thus, timely and apposite that a book of this sort should now appear.
…overall, readers will find a significant amount of useful information and discussion in this book."
Aquaculture Research, Vol 36, July 2005

"...provides an excellent introduction to the topic... The many photographs and drawings help illustrate the often complex concepts and techniques that are presented."
Robert R Stickney, World Aquaculture, September 2003.
"...an ideal text for relative newcomers to Genetics in Fisheries and Aquaculture that would not be out of place on of bookshelf of those already well established in the field. A good read and excellent value for money."
Shellfish News

"...[a] well-written and concise book... I would recommend the book to libraries of universities and research institutes involved in fisheries science and aquaculture." Aquaculture International

"biotechnology and genetics are just as important in the seafood business as they are in land based aquaculture...It is a complex but vitally important subject which anyone involved with fish farming need to understand very clearly. This book will help them do so."
Fishing Boat World 2004