Biotechnology of Bioactive Compounds: Sources and Applications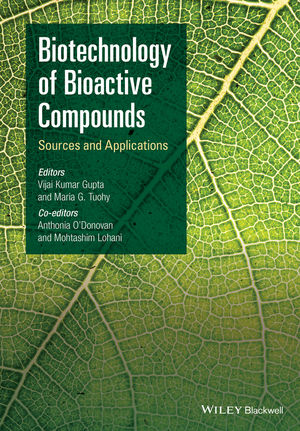 Biotechnology of Bioactive Compounds: Sources and Applications
ISBN: 978-1-118-73349-3
Apr 2015, Wiley-Blackwell
736 pages
Description
Bioactive compounds play a central role in high-value product development in the chemical industry. Bioactive compounds have been identified from diverse sources and their therapeutic benefits, nutritional value and protective effects in human and animal healthcare have underpinned their application as pharmaceuticals and functional food ingredients. The orderly study of biologically active products and the exploration of potential biological activities of these secondary metabolites, including their clinical applications, standardization, quality control, mode of action and potential biomolecular interactions, has emerged as one of the most exciting developments in modern natural medicine.
Biotechnology of Bioactive Compounds describes the current stage of knowledge on the production of bioactive compounds from microbial, algal and vegetable sources. In addition, the molecular approach for screening bioactive compounds is also discussed, as well as examples of applications of these compounds on human health. The first half of the book comprises information on diverse sources of bioactive compounds, ranging from microorganisms and algae to plants and dietary foods. The second half of the book reviews synthetic approaches, as well as selected bioactivities and biotechnological and biomedical potential. The bioactive compounds profiled include compounds such as C-phycocyanins, glycosides, phytosterols and natural steroids. An overview of the usage of bioactive compounds as antioxidants and anti-inflammatory agents, anti-allergic compounds and in stem cell research is also presented, along with an overview of the medicinal applications of plant-derived compounds.
Biotechnology of Bioactive Compounds will be an informative text for undergraduate and graduate students of bio-medicinal chemistry who are keen to explore the potential of bioactive natural products. It also provides useful information for scientists working in various research fields where natural products have a primary role.
List of contributors ix
Foreword xvii
Preface xix
Section I: Bioactive compounds from diverse plant microbial and marine sources
1 Bioactive compounds from vegetable and fruit by-products 3
B. De Ancos C. Colina-Coca D. González-Pena and C. Sánchez-Moreno
2 Bioactive compounds in fresh-cut fruits: Occurrence and impact of processing and cold storage 37
María Elida Pirovani Andrea Marcela Piagentini and Franco Van de Velde
3 Pressurized hot water extraction of polyphenols from plant material 63
José Rodrigo Vergara-Salinas José Cuevas-Valenzuela and José R. Pérez-Correa
4 Bioactive compounds in cereals: Technological and nutritional properties 103
Bart³omiej Makowski Justyna Rosicka-Kaczmarek and Ewa Nebesny
5 Antimicrobials from medicinal plants: Research initiatives challenges and the future prospects 123
Anita Pandey and Vasudha Agnihotri
6 Coccoloba uvifera as a source of components with antioxidant activity 151
Maira Segura Campos Jorge Ruiz Ruiz Luis Chel Guerrero and David Betancur Ancona
7 Bioactive compounds and medical significance of some endangered medicinal plants from the Western Ghats region of India 163
Manoharan Melvin Joe Abitha Benson Muniappan Ayyanar and Tongmin Sa
8 Fungal bioactive compounds: An overview 195
Gerardo Díaz-Godínez
9 Arbuscular mycorrhizal fungi: Association and production of bioactive compounds in plants 225
Marcela C. Pagano and Partha P. Dhar
10 Extremophiles as source of novel bioactive compounds with industrial potential 245
Mohamed Neifar Sameh Maktouf Raoudha Ellouze Ghorbel Atef Jaouani and Ameur Cherif
11 New trends in microbial production of natural complex bioactive isoprenoids 269
Rama Raju Baadhe Ravichandra Potumarthi Naveen Kumar Mekala and Vijai K. Gupta
12 Production of c-phycocyanin and its potential applications 283
Mohammed Kuddus Poonam Singh George Thomas and Athar Ali
Section II: Chemistry biotechnology and industrial relevance
13 Glycosides: From biosynthesis to biological activity toward therapeutic application 303
Maria Henriques L. Ribeiro
14 Trehalose mimics as bioactive compounds 345
Davide Bini Antonella Sgambato Luca Gabrielli Laura Russo and Laura Cipolla
15 Virtual screening and prediction of the molecular mechanism of bioactive compounds in silico 371
Bashir A. Akhoon Krishna P. Singh Madhumita Karmakar Suchi Smita Rakesh Pandey and Shailendra K. Gupta
16 Steroids in natural matrices: Chemical features and bioactive properties 395
Joao C.M. Barreira and Isabel C.F.R. Ferreira
17 Bioactive compounds obtained through biotechnology 433
Gustavo Molina Franciele M. Pelissari Marina G. Pessoa and Gláucia M. Pastore
18 Metabolic engineering of bioactive compounds in berries 463
Ivayla Dincheva Ilian Badjakov and Violeta Kondakova
19 Food-derived multifunctional bioactive proteins and peptides: Sources and production 483
Dominic Agyei Ravichandra Potumarthi and Michael K. Danquah
20 Food-derived multifunctional bioactive proteins and peptides: Applications and recent advances 507
Dominic Agyei Ravichandra Potumarthi and Michael K. Danquah
Section III: Biochemistry and nutraceutical or health-related applications
21 An overview of the molecular and cellular interactions of some bioactive compounds 527
Amro Abd Al Fattah Amara
22 Bioactive compounds as growth factors and 3D matrix materials in stem cell research 555
Naveen Kumar Mekala Rama Raju Baadhe and Ravichandra Potumarthi
23 Phytosterols: Biological effects and mechanisms of hypocholesterolemic action 565
Rafaela da Silva Marineli Cibele Priscila Busch Furlan Anne y Castro Marques Juliano Bicas Gláucia Maria Pastore and Mário Roberto Maróstica Jr.
24 Overview of the role of food bioactive compounds as complementary therapy for celiac disease 583
Antonio Cilla Laia Alemany Juan Antonio Giménez and José Moisés Laparra
25 Bioactive lipid components from ruminant milk and meat: The new face of human health 599
Malgorzata Szumacher-Strabel Mohamed El-Sherbiny Adam Cieslak Joanna Szczechowiak and Hanna Winiarska
26 The milk fat globule membrane: A potential source of health-promoting glycans 631
Sarah A. Ross Jonathan A. Lane Michelle Kilcoyne Lokesh Joshi and Rita M. Hickey
27 Seaweed and milk derived bioactive peptides and small molecules in functional foods and cosmeceuticals 669
Maria Hayes Melani García-García Ciarán Fitzgerald and Tomas Lafarga
Index 693