Bipolar Psychopharmacotherapy: Caring for the Patient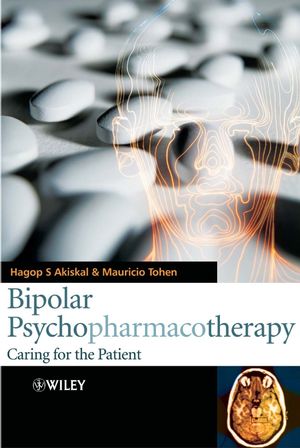 Bipolar Psychopharmacotherapy: Caring for the Patient
ISBN: 978-0-470-03230-5
Jun 2006
414 pages
Description
Bipolar disorder is often not recognized as an illness, and people may suffer for years before it is properly diagnosed and treated. Like diabetes or heart disease, bipolar disorder is a long-term illness that must be carefully managed throughout a person's life. Pharmacotherapy is central to the acute treatment and long-term management of the disorder and as there are several classes of drugs, which are often prescribed concurrently, treatment issues are complex.

This essential reference work examines major pharmacological treatments in the different phases of bipolar disorder. Chapters are devoted to commonly use pharmacological treatments with a critical review of the existing literature. Each chapter includes information not only on studies that have been published but also on new treatments that have been reported in peer reviewed scientific meetings.

Bipolar Psychopharmacotherapy covers both pharmacotherapy and the role of psychotherapy, psychoeducation and social approaches to provide a broad integrative philosophy of care for bipolar patients. Extensive coverage is given to special management issues such as the care of women with bipolar disorder, children and the elderly, as well as bipolar depression and suicide prevention.

With contributions from the pioneers in the field and an expert editor team, Bipolar Psychopharmacotherapy provides psychiatrists and all mental health practitioners with an invaluable guide to the management of these complex patients.

From the reviews:

"If a colleague were to ask me, "What would you recommend I read if I want to become a real expert on bipolarity?" I would respond 'Bipolar Psychopharmacotherapy: Caring for the Patient'." JOURNAL OF BIPOLAR DISORDERS

"... a very useful reference on the pharmacological treatment of bipolar disorder that is written in a very practical and user-friendly format... a must for anyone dealing with patients with bipolar disorder." DOODY'S HEALTH SERVICES

"... a multifaceted text with broad clinical value… recommended as an in-office reference for the practicing physician who treats the bipolar patients… to all Health Science libraries as a general reference text." THE ELECTRIC REVIEW
List of Contributors.
Preface.
Chapter 1: The Scope of Bipolar Disorders (Hagop S. Akiskal).
Chapter 2: Lithium Treatment: Focus on Long-Term Prophylaxis (Mogens Schou and Paul Grof).
Chapter 3: Valproate: Clinical Pharmacological Profile (Charles L. Bowden and Vivek Singh).
Chapter 4: Pharmacological Profile and Clinical Utility of Lamotrigine in Bipolar Disorders (David J. Muzina, Joseph R. Calabrese).
Chapter 5: Carbamazepine, Other Anticonvulsants and Augmenting Agents (Heinz Grunze).
Chapter 6: Olanzapine in Treatment for Bipolar Disorder (Mauricio Tohen, Giedra Campbell, and Daniel Lin).
Chapter 7: Haloperidol and Risperidone in Mania (John Cookson).
Chapter 8: A Comparison of "Second Generation Antipsychotics" in the Treatment for Bipolar Disorder: Focus on Clozapine, Quetiapine, Ziprasidone and Aripiprazole (Paul E. Keck, Jr. and Susan L. McElroy).
Chapter 9: Complex Combination Therapy: The Evolution Toward Rational Polypharmacy in Lithium-Resistant Bipolar Illness (Robert M. Post, Andrew M. Speer and Gabriele S. Leverich).
Chapter 10: The Primacy of Mania (Athanasios Koukopoulos).
Chapter 11: Diagnostic and Clinical Management Approaches to Bipolar Depression, Bipolar II and Their Comorbidities (Giulio Perugi, S. Nassir Ghaemi and Hagop S. Akiskal).
Chapter 12: Bipolarity in Women: Therapeutic Issues (Susan L. McElroy, Lesley M. Arnold and Lori L. Altshuler).
Chapter 13: Pediatric Bipolar Disorder: The Promise of Psychopharmacotherapy (Joseph Biederman).
Chapter 14: Treatment for Bipolar Disorder in Older Adults (Kenneth I. Shulman).
Chapter 15 Psychosocial Interventions in Bipolar Disorders: Rationale and Effectiveness (David J. Miklowitz).
Chapter 16: The Pivotal Role of Psychoeducation in the Long-Term Treatment of Bipolar Disorder (Francesc Colom and Eduard Vieta).
Chapter 17: The Role of Treatment Setting in the Pharmacotherapy of Bipolar Disorder (Jean-Michel Azorin).
Chapter 18: Suicide Prevention (Zoltán Rihmer
Chapter 19: Principles of Caring for Bipolar Patients (Hagop S. Akiskal and Kareen K. Akiskal).
Index.
"...an extremely up-to-date, comprehensive book for clinicians...I would recommend it for every clinical psychiatrist whose practice includes bipolar patients." (
American Journal of Psychiatry
, February 2007)
"...readers will not be able to find a more comprehensive and up-to-date review of the main therapeutic approaches to bipolar affective disorder..." (New England Journal of Medicine, September 21, 2006)
"This is a book that will have a prominent place in my already bursting library for a long time to come because of its value to me as a researcher, scholar, and teacher." (The Annals of Pharmacotherapy, September 2006)
"...a very useful reference on the pharmacological treatment of bipolar disorder that is written in a very practical and user-friendly format...a must for anyone dealing with patients with bipolar disorder." (Doody's Health Services)
"…a multifaceted text with broad clinical value…recommended as an in-office reference for the practicing physician who treats the bipolar patients…to all Health Science libraries as a general reference text." (The Electric Review, March/April 2006)